Of course the primary difference between a daytime nanny and night nurse lies in the hours during which they provide care! But there are other ways the jobs of each baby care provider differs. This blog, Daytime Nanny and A Night Nurse: Unique Differences details the specific roles of each job as it relates to newborn and infant care.
Daytime Nanny and A Night Nurse: Unique Differences – A Summary
Nannies can care for kids of any age from newborn to school age, so their role in the home can cary widely. Night nannies and night nurses (RN/LPN) on the other hand, specifically care for postpartum families with newborns and infants. While each job and families' needs vary, the main differences between a daytime nanny and a night nurse are usually:
Newborn Feeding Support
Housework and Pet Care
Transportation and Outings
Infant Sleep Support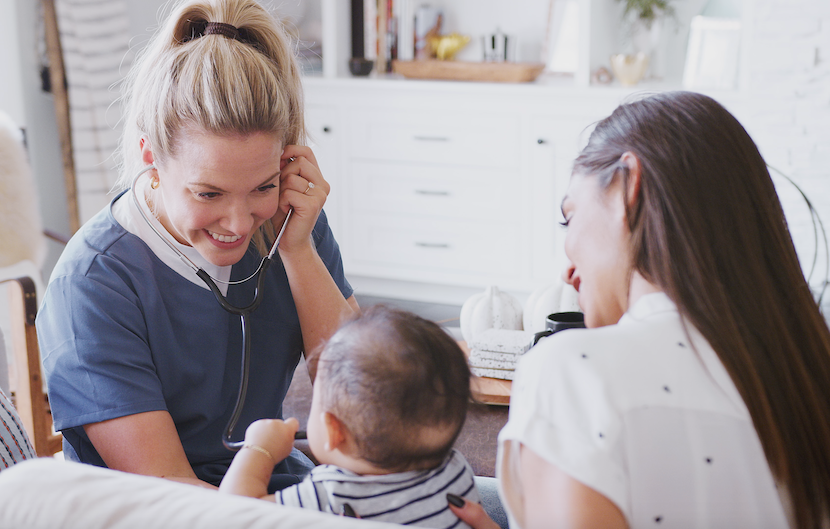 Looking at the Differences More In Depth: Family Life
First, when using the term Night Nurse it's important to remember that "Nurse" is a legally protected term. It should be used when referring to an actual Registered Nurse, Licensed Practical Nurse or Licensed Vocational Nurse. We understand it's become a generic term but it's a distinction parents with newborns will want to know.
1. Feeding Support – Breast and Bottle
"Is my baby eating enough?" is one of the most common questions parents have when they leave the hospital or birthing center. For this reason, night nannies and postpartum nurses are well versed in feeding support. Additionally, if breastfeeding your newborn is a priority, a night nanny or night nurse will offer lactation support. This often happens during the breastfeeding session itself. A nanny can certainly help too, but is not usually specially trained in lactation.
2. Housework and Pet Care
Housekeeping is a normal part of your family's day, so daytime nannies are often expected to pitch in with light chores. Sweeping up, wiping down the counters or taking out the garbage can happen multiple times per day! Mealtime for babies who have started solids or older kids is also a typical nanny duty. Food prep, supervising through the meal and clean up afterwards are all part of nanny's job. When a family has pets a nanny will often be in charge of feeding and taking them out.
If you're hiring help overnight, you want overnight newborn care providers to keep the home quiet (And the pets are usually asleep too!), so housework isn't usually an expectation. A night nanny will keep your baby's nursery tidy and laundry folded though.
Looking at the Differences More In Depth: Baby Care
3. Transportation and Outings
Going on outings to the park with the baby, accompanying you to pediatrician appointments and household errands are part of a daytime nanny's routine. Make sure your nanny is comfortable using your stroller and car seats safely. Also ensuring your car insurance properly covers the additional driver.
This is of course not the case with your night nanny or night nurse. Travel is not part of the job for your night nanny!
4. Infant Sleep Support
If you're a parent of a newborn, infant or twins you might be counting the weeks until your baby is sleeping through the night. And that's okay- none of us are set up for sleep deprivation. For this reason both daytime and night nannies are equally important in helping your baby establish a routine. Daytime nannies help pave the way for long stretches of sleep overnight by making sure healthy feeds, naps and activity are happening each day.
Night nannies anticipate an infant's feeding times overnight and ensure baby is properly fed, burped and soothed before going back to sleep. When it's time to begin eliminating overnight feeds, the night nurse or nanny will gently wean formula/milk, eventually allowing baby to sleep through the night.
A Safe Sleep certificate is part of every Certified Newborn Care Providers (NCP) education. Whether providing care during the day or night, your caregiver should be well versed in infant safe sleep and minimizing the risk of SIDS.
Daytime Nanny and A Night Nurse: Unique Differences – Which Should I Hire?
There's no wrong answer when it comes to deciding what child care is most helpful to you. Sometimes families hire a combination of daytime and nighttime help to ensure comprehensive care for their children. It doesn't have to be 7 days/night per week, care can happen just 1 or 2 days at a time. There are many reasons for this that include:
You and your partner are both returning to work during the fourth trimester, when your baby still wakes up through the night.
You have twins or higher order multiples. Twins are usually born at a lower birthweight, so they wake through the night to feed for several months longer than full term babies do.
You've got older kids not in daycare and not old enough to attend school.
Whether a postpartum doula, night nanny, night nurse or daytime nanny the most important consideration is how the caregiver will support you and your family.