Mission Sleep is the 501c3 non-profit arm of Let Mommy Sleep. We strive to provide free, overnight baby care to military and first responders whose newborns arrive when their partner is deployed, wounded or deceased. When funds allow, we extend services to anyone in need. This post, Mission Sleep: Free Night Nanny Care for Parents in Need will describe exactly who we are, how we support families and how you can help too.
Mission Sleep – Who are we?
Let Mommy Sleep (LMS) began in 2010 as a very simple service: baby nurses and night nannies tend to newborns overnight while parents sleep and recover from childbirth. Though the creation of the business was a result the founder's own traumatic birth experience, the concept is not a new one. What is new however, is that once regarded as a historical norm, postpartum support is now inaccessible to many. Families are geographically spread out, tied to work or fall through the cracks of health insurance to justify in-home healthcare.
After seeing the overwhelming need and incredible positive impact overnight newborn care has on families, Denise Iacona Stern the owner of LMS and now President of Mission Sleep, felt called to bring postpartum care to those who serve all of us everyday. Limiting overnight care to parents whose partners are deployed, wounded or deceased ensures that funds are used to help those most in need. The goal is to eventually serve all military and first responders with newborns.
Mission Sleep: Free Night Nanny Care for Parents in Need
Overnight care is provided by the highly vetted, compassionate and experienced baby nurses (RN/LPN) and night nannies already working with us at Let Mommy Sleep. Hours are typically from 10p-6a but we remain flexible to fit the families' needs.
Operation: Sleep, now known as Mission Sleep was launched in 2012. The 501c3 non-profit quickly landed on a national stage with appearances on NBC4, FoxNews and at the White House Summit for Working Families. Like so many, the charity was forced to stop services due to COVID, but we're back and ready to serve! We're proud to have earned our Gold Level Transparency listing on GuideStar.org, the world's largest source of information on nonprofit organizations.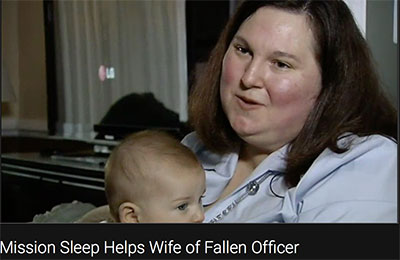 How Does Baby Nurse or Night Nanny Care Help?
We already know that overnight baby care has direct and positive results. Therefore, in a situation where one parent is unexpectedly unable to help, the mental and physical health benefits are even greater.
Healthy recuperation from birth.
Exhausted "single" parents receive relief, allowing them to stay healthy.
Better mental health outcomes.
Evidence -based education to make safe and healthy decisions.
Members of our military receive a tangible thank-you from the civilian community.
Real families we have helped in the past include military spouses who became widows during pregnancy, moms whose spouses received orders to deploy during pregnancy and a non-military father whose wife died while giving birth to their twins. Maternal death is still a reality even in 2022 and in these cases we extend service even without a connection to police, fire or military.
Mission Sleep: Free Night Nanny Care – Want to help?
SPONSOR! Corporations and companies with giving programs can donate below or contact us to arrange an option that works for you. We love our corporate sponsors and will shout your support on our entire social platform. Along with dedicated sponsorship content, we'll share guest posts and content of your choice. Contributions of $3000 or more receive social postings, links and blog posts FOR LIFE.
Any contribution is helpful of course but here are some popular giving options:
25 Hours of Care – $750
50 Hours of Care – $1500
100 hours of Care – $3000
DONATE! – Give to our GoFundMe or choose an option below!
SHARE! – Share this post to help create awareness!