Sandy Schremmer, RN, BS, MBA and Rachael Eaves, RN, BSN have expanded on a passion for helping newborns and their families in their beloved home state of Kansas. Get to Know Wichita's Expert Baby Company below and learn more about this elite night nanny, night nurse and postpartum doula team!
Get to Know Wichita's Expert Baby Company – Experience You Can Trust
Sandy and Rachael are committed to providing solutions to those experiencing postpartum depression and mood disorders. This comes from years in professional baby care and mental health support. Both women are Nurses and also happen to have the connection of family themselves, as they're mother and daughter. They truly understand maternal health and that sleep and evidence-based newborn care support are proven ways to help brand new parents. They've also assembled a team of postpartum doulas, nannies for twins and Certified Newborn Care Providers (NCP), making the organization Wichita's Expert Baby Company.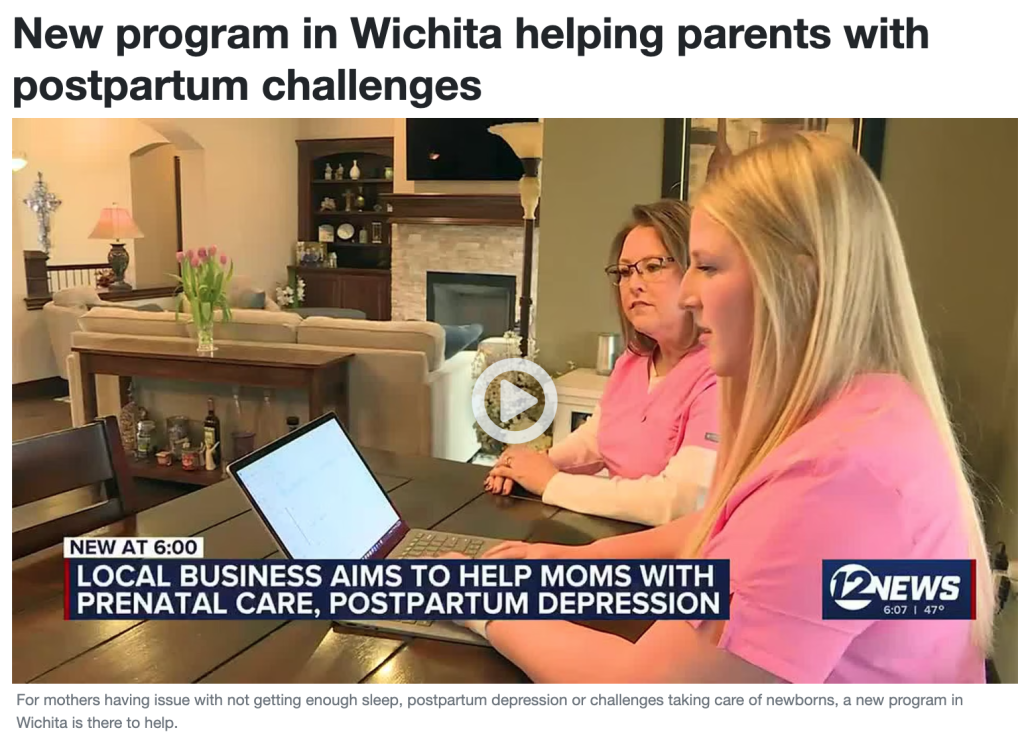 Here's a little more about the very impressive owners. Get to know Wichita's expert baby company led by Sandy and Rachael:
Sandy Schremmer, RN, BS, MBA and Rachael Eaves, RN, BSN have a combined 30+ years of nursing experience in Wichita.
Both women are born and bred Kansans! Sandy is a graduate of the University of Kansas and Rachael then earned her degree at Wichita State University.
Both owners are experienced in newborn care and mental health support at local hospitals, therefore extending this expertise to the home.
As Sandy says, Both Rachael and I have always been drawn to the education aspect of nursing. Being part of that precious and special time when a family welcomes their baby is an incredible honor. Rachael adds: Helping someone in what might be a new and scary situation feel comfortable is my favorite part of nursing…I am so excited to do this for parents!
What Kind of Newborn and Postpartum Support is Offered?
As Wichita's expert baby care company, the Registered Nurses and Certified Newborn Care Providers offer the following support:
Baby Basics Classes – In home or virtual infant care instruction including how to help your baby get on a schedule. Our Nurses also teach diapering, swaddling and other baby care basics. Don't worry, you'll learn about infant sleep too!
Corporate Care – As Wichita's expert baby company, we offer 2 hour postpartum visits as an employee benefit. Wichita area companies and corporations can easily take advantage of this program to help with recruiting and retention.
Overnight Postpartum Doulas – You'll get peace of mind knowing your newborn is in the caring hands of a professional Certified Newborn Care Provider (NCP)
Postpartum Home Visits – RN visits mean your families gets early intervention in infant feeding and recuperation, therefore minimizing hospital readmissions. As bridge between being in the hospital and the 6-week OB/GYN visit helps the entire family. Baby care and parent care are crucial to maternal health and positive mental health outcomes.
As the Industry Leaders in newborn and postpartum care, these Wichita baby experts have garnered lots of local attention. The team of postpartum doulas, night nannies and baby company experts have appeared on CBS affiliate KWCH-TV, the Wichita Business Journal and Wichita business events.
Get to Know Wichita's Expert Baby Company – More of Wichita's Newborn Care Resources
In addition to the infant care experts at Let Mommy Sleep, new parents in Wichita might need other specialized resources. Here are some important ones:
Wichita Area Parents of Multiples – WAPOM is a non-profit organization. They are committed to offering support, social events, resources and education to families with twins, triplets or higher order multiples. They serve families in the Wichita area.
Postpartum Support KS – Postpartum Support KS is part of Postpartum Support International. Their mission, as stated on their site is to increase awareness, education, prevention, and treatment of perinatal mental health issues affecting individuals, their families, and support systems in all areas of Kansas.
Families Together Inc. – Families Together, Inc. is dedicated to helping families with children who have disabilities or special health care needs. If you need support navigating school services, health care or community resources, let them know. They serve the whole state of Kansas.
Would you like to see a resource added? Let us know!