Updated Sept 18, 2022 – Unlike physical emergencies which are often obvious to us, it can be hard to know when to reach out for help for mental issues. If you or someone you love is having thoughts that scare them, it may be an EMERGENCY. But what do you do if you just feel "off"? Or your loved one doesn't seem to be getting better? If you're not sure what kind of support is needed, the Postpartum Mental Health Resources chart below may help.
Postpartum Mental Health Resources – An Overview
Below are postpartum resources in order of emergency need. Share and bookmark this resource.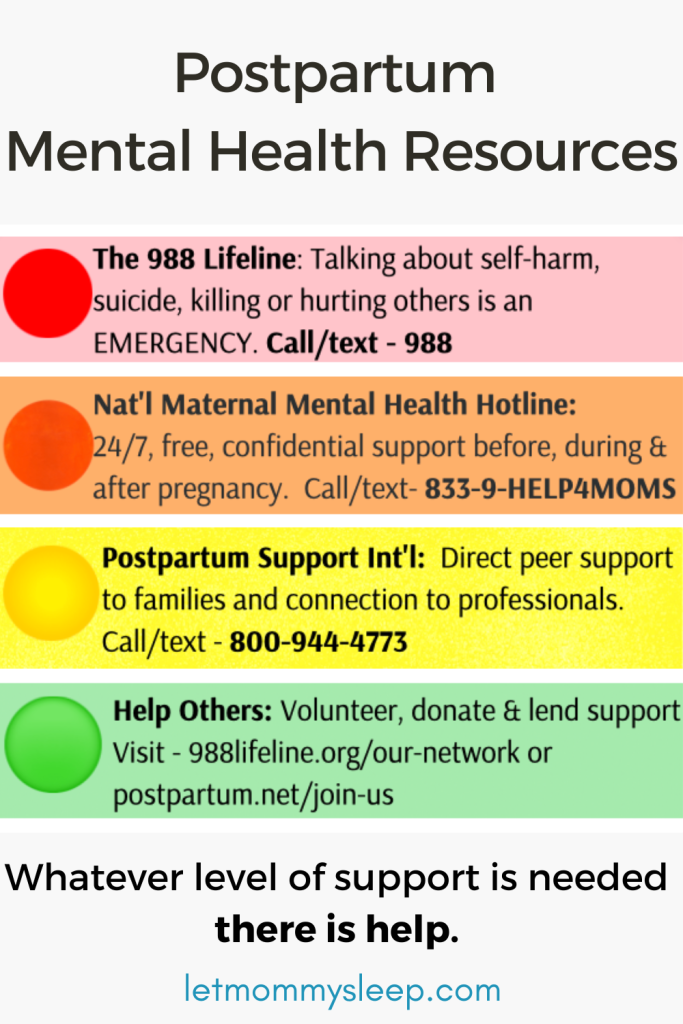 Emergency Level of Care: The 988 Lifeline – Talking about self-harm, suicide, killing or hurting others is an EMERGENCY. The Lifeline provides 24/7, free and confidential support for people in distress. Call or text 988 from any phone or visit 988lifeline.org
Support Level of Care before, during and after pregnancy: National Maternal Mental Health Hotline: Free, confidential support 24/7 during all phases of maternal need. Call/text- 833-9-HELP4MOMS. The hotline offers access to professional counselors, referrals to local and tele-health providers and support group connection.
Support Level during Postpartum Phase: Postpartum Support International – The organization provides direct peer support to families, trains of professionals, and provides a bridge to connect them. 800-944-4773
Helping Others – Have you come out on the other side of mental health distress and now want to help others do the same? Or perhaps you'd like to donate to maternal health causes? You can train to become a crisis line volunteer, connect those in need with services or give to these causes by visiting: 988lifeline.org/our-network or postpartum.net/join-us.
Understand Mental Issues Before Baby Arrives
Perinatal or postpartum mood and anxiety disorders, also called PMAD's, are the most common complication of pregnancy. Educate yourself and your loved ones about potential issues before baby arrives. Becoming familiar with "what's normal" versus what's not can make the difference between a bump in the road and a crisis situation. The good news is that education and support is out there!
Here's how you can get educated about postpartum mental health:
Learn and Talk About It Before Baby Arrives: First, learn the difference between typical "baby blues" and postpartum depression. This can help you to see when typical postpartum behaviors such as weepiness or fatigue cross the line to becoming a mental health concern. This is different for everyone depending their usual demeanor, so it's helpful to understand you and your partner's baseline moods and if they change in the weeks after baby arrives.
Questions you can ask yourself if you feel normal baby blues are blurring into a mood disorder are: Do I seem more sad than happy? or Does my partner have anxious thoughts that were never there before?
Assign an Advocate: Partners are usually each other's advocates and first line of defense in addressing mental health. If you don't have a partner, ask a trusted loved one to specifically look out for your mental health. Visitors are almost all going to ask about the baby…how is he doing, how is she eating? And when someone asks how you're doing, the default answer is almost always "Fine!", and there's no chance for a more substantive conversation. For this reason, parents should be on alert for changes in each other's mood and behavior, or have a trusted love one taking on this role. It's ideal to have as many people as possible tasked with protecting parents' mental health, and there is no shame in doing this, so looking out for behavioral changes doesn't have to be a secret!
Dads & Partners – Dads and non-birthing partners are at risk of postpartum depression too. In fact, an NIH study notes depression can affect up to 25% of new fathers.  Learn your own risks and bookmark resources like Postpartum Support Int'l that have specific tools for you.
Family, Nannies & Caregivers – Building on the tips above, share these resources with those who can look out for you and your partner. In fact, many times when we're in distress, others notice that we're acting differently before we do.
Understand Crisis Situations – It can be hard to know when to call a doctor or when to reach out for emergency help. If you're unsure, Mara Watts, M.A., M., Ed. of Postpartum Support of Virginia has an excellent rule of thumb: "If you are having thoughts that scare you, this is an emergency."
Whatever level of support is needed, there is help for you. Please let us know if we can help connect you with these resources or provide overnight support to help you recuperate or get healthy. Mental and physical wellness depend on each other! For a comprehensive list of all mental health resources, visit MentalHealthFirstAide.org.