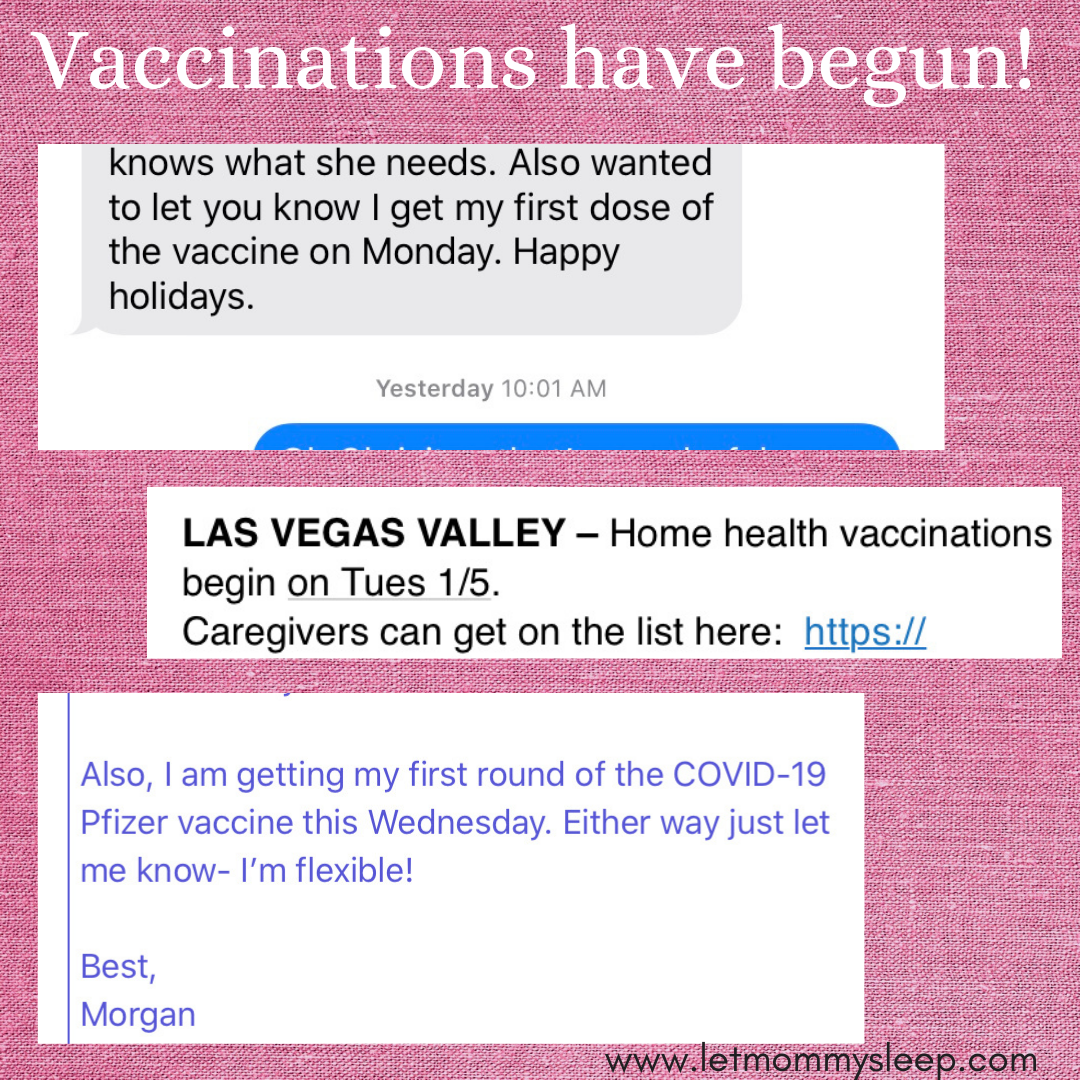 COVID19 and Newborn Care Best Practices for our Night Nurses and Postpartum Caregivers working in the family home have been updated as the coronavirus pandemic evolves. Vaccinations are now widely available and covid19 testing easily accessible, so we're able to service more families while still remaining vigilant with safety. Below is a breakdown of our COVID19 safety and ongoing best practices:
Updated, Nov 20 2021 – Yes, we are all vaccinated including the booster. We understand some folks have big feelings about the vaccine however, as an evidence-based newborn and postpartum care company we're following the advice of the CDC, The American College of Obstetricians and Gynecologists (ACOG), the Society for Maternal-Fetal Medicine (SMFM) and the AAP.
Updated, Jan 11 2021 – Our Nurses and Newborn Care Providers are now receiving the 2nd round of the Pfizer and Moderna vaccines. We still wear masks because it's possible for a vaccinated individual to transmit the virus. We also want to protect those in the household too young to receive immunization or those who are immune-compromised.
Update – Dec 1, 2020 We've prided ourselves on using the highest vetting and safety practices possible since we began in 2010. As a company dedicated to evidence-based care, we lean on the recommendations of the CDC, the American Academy of Pediatrics (AAP) and other primary sources. Specifically we follow the AAP statement that vaccines for health care workers. This states that vaccines are "ethical, necessary and just" to protect vulnerable populations. Too young to receive vaccines themselves, newborns and infants are considered vulnerable.
COVID19 and Newborn Care Best Practices
Coronavirus has caused us to examine and refine our practices even further. Here is an overview of current Let Mommy Sleep practices:
What we always do:
Wash Hands – Caregivers wash hands upon arrival into the family home and continue handwashing and sanitizing through the night and before and after all contact with baby.
Remove Shoes – upon arrival into your home.
Masking – Masks are required unless the family and caregiver mutually agree that they are comfortable without masks.
Vaccinate – We follow evidence-based science. We remain updated on all vaccinations to minimize the risk of illnesses to which newborns are vulnerable. These include influenza, pertussis (MMR), TDaP and COVID.
Continuing Ed – Provide free continuing education to all staff. This ensures we're following the most recent safety, health and care guidelines.
Err on the side of caution – Staff is kept home at any sign of illness, even if symptoms might be "just allergies."
What can we do together to minimize exposure?
Please leave sanitizing wipes or other household cleaners out for our team to use periodically through the night. While we can't always practice social distancing when caring for babies, we can wear masks, handwash and clean, clean, clean!
We can't wait to see you again and remain thankful and privileged to be in your homes. If you'd like to learn more about us and our practices, please visit this page.
In solidarity,
Denise Stern
CEO, Let Mommy Sleep and Mom of 3