With the passing of the Providing Urgent Maternal Protections (PUMP) For Nursing Mothers Act in December, workplaces must comply with stricter laws to allow breastfeeding workers time and a dedicated space to pump (not a bathroom!). Companies have an opportunity right now to not just comply with the law, but overdeliver on its purpose! We tell you how in Postpartum Employee Benefits: Positive Disruption at Work.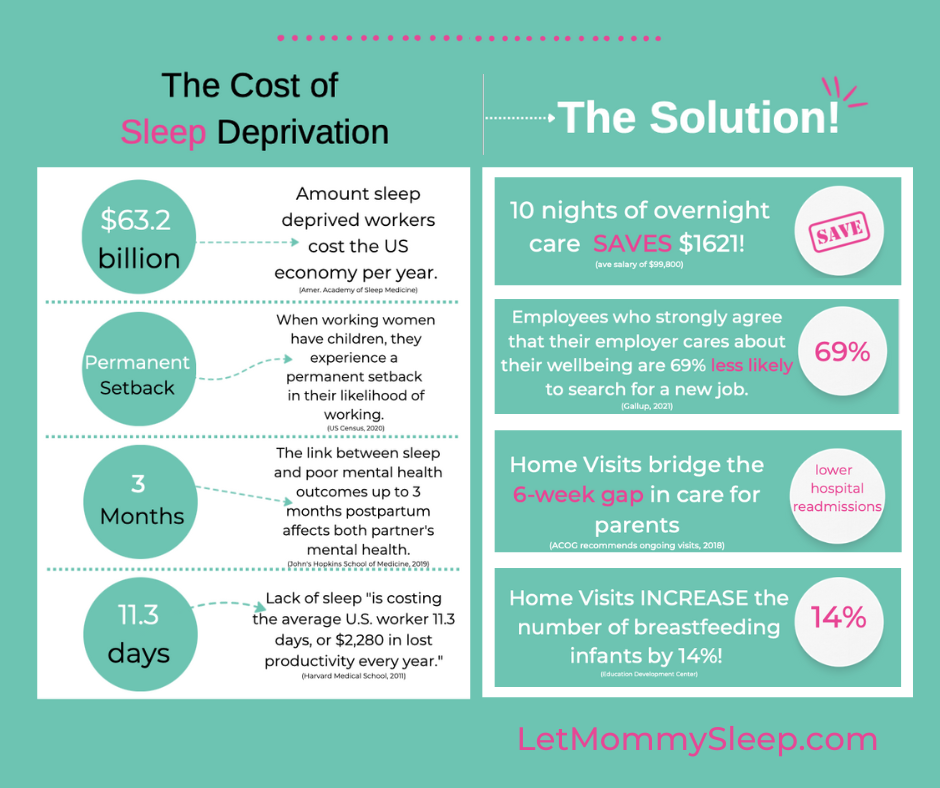 Offering In-Home Visits by a Nurse after baby is born or Overnight Newborn Care when employees return to work, shows that a business does more than just offer "perks," they actively prioritize employee welfare.

Denise Iacona Stern, Let Mommy Sleep
What do you mean by Postpartum Employee Benefits: Positive Disruption at Work?
While large companies try to outdo each other with a week or 2 more of maternity leave, a nursing pod or a gym membership, Postpartum Benefits are an innovation that actually sets a company apart. These benefits make a true impact on the lives of employees.
Here's what we mean:
Home Visits by a Registered Nurse – Newborns have well-visits with a pediatrician many times in their first months home. Did you know some new parents often don't have any?! Postpartum Visits are just what they sound like – a Registered Nurse visits the family home to provide head to toe assessments, education and breast or bottle feeding support to brand new parents. Visits occur during the vulnerable first week home with baby.
Why Home Visits?
Education and clinical assessment in the early days home with newborns equates to better breastfeeding outcomes, lowered hospital readmissions and better mental health outcomes. These are health benefits for the whole family recommended by many organizations including The American College of Obstetricians and Gynecologists in 2016 and reaffirmed in 2021.
Postpartum visits bridge the month-and-a-half gap in care for birthing parents to see a physician for their own health.
Visits are the only opportunity for non-birthing parents to receive a formal health assessment and education.
Postpartum mood and anxiety disorders (PMAD's) are the most common complication of pregnancy for both parents but are also 100% treatable. Early intervention is a key solution.
Overnight Newborn Care – happens when the employee arrives home with baby or during the week an employee returns to work, usually between the hours of 10pm and 6am. A certified Newborn Care Provider (NCP), also called a postpartum doula or night nanny feeds, monitors and cares for babies through the night.
Why Overnight Care?  Postpartum Employee Benefits: Positive Disruption at Work
Allows for proper recuperation after birth and continued monitoring of parents.
Caregivers provide responsive care and monitoring of baby through the night ensuring proper feeding, safety and safe sleep.
Employees receive the deep, restorative sleep that keep mind and body healthy upon returning to work.
These simple services positively affect the health and wellbeing of employees, but they also provide impactful, cost effective and measurable solutions to companies in the following ways:
Recruiting:
Corporations are typically competing to hire from the same pool of elite applicants. Salary and traditional benefits are of course huge factors in a potential hire's decision but increasingly, so is the feeling that companies actually care about their employees' well-being. (Gallup, 2021)
Retention:
"How a woman is treated in the months leading up to her maternity leave and then during leave and shortly thereafter when she returns to work will determine whether or not a company will be able to retain her."– Asha Santos, partner at Littler Mendelson P.C., who advises U.S. companies on employment law and how to build respect in the workplace."
Parents receive the tools that are lacking in traditional healthcare to stay mentally and physically healthy, increase breastfeeding rates and be ready to return to the workplace.
Cost Effective:
Using a salary of $100,000 for easy math, the amount of lost productivity per employee in 2018 was about $4300. Cost of the postpartum care program is only $100 – $1440 per employee welcoming a child.
Cost only occurs for those becoming parents, not for the entire workforce. Among adults, it's estimated that less than 2% of the population is pregnant at any given time (CDC data: 11 births per 1000 population). Extending benefits to both spouses means that only 4% of the workforce will use postpartum benefits in any given year.
Benefits become more cost effective, the higher the salary of the employee. Because the rate for postpartum care doesn't change, the cost benefit becomes greater.
---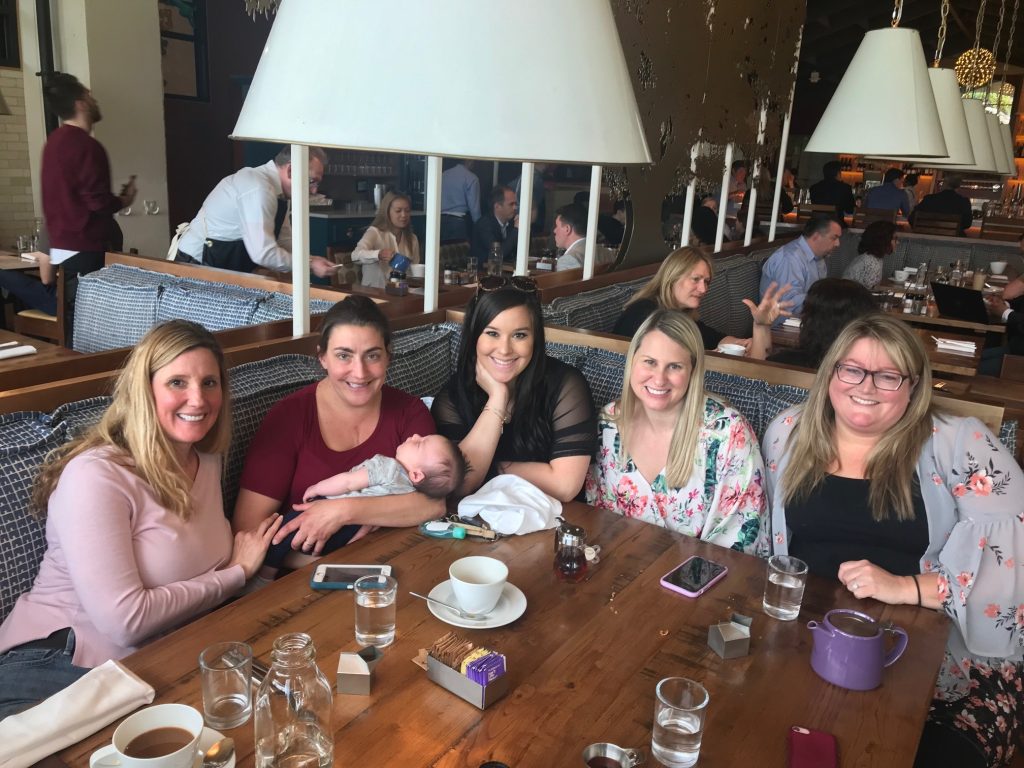 Postpartum Employee Benefits: Positive Disruption at Work – How Does It Work?
It's so easy!
Employee visits their custom company portal to request service.
Care is coordinated within 24 hours, so the employee receives their postpartum doula profile and then service occurs when it is requested.
The company is billed after service has occurred.
Why Let Mommy Sleep Postpartum Benefits?
We've been at this since 2010 and have since replicated our model all over the United States! Our corporate care program has been profiled on TODAY and in Parents Magazine. It was also used by INOVA EAP, serving over 200 locations across the country for 3 years. We're widely considered the Industry Leaders in newborn and postpartum doula care.
Here's why:
Awarded a local government contract to teach Newborn & Postpartum Care from 2015-2021 (ended due to covid)
Provided almost 1 million hours of exemplary care
13 locations nationwide with 2 more due to open in 2023
Our teaching and experts have been cited in healthcare and pediatric journals, as well as local and national press.
Licensure and certification is required for all caregivers, attracting the highest level of candidate and greatest level of accountability.
We proudly serve military & first responder families whose babies arrive when a parent is deployed, wounded or deceased through our 501c3, Mission: Sleep.
Want to Enroll? Contact your local office today!
Would you like to learn more about Let Mommy Sleep and our franchises? We have a dedicated website for that!