We've been caring for babies and their families since 2010, and are often asked about how to start working in newborn care. The good news is that there are lots of opportunities to help newborns and their families! This blog, Night Nanny or Baby Nurse: How-To Get Your Dream Job! details how to become a newborn care provider. We also talk about what it's like to work at Let Mommy Sleep!
Night Nanny or Baby Nurse: How-To Get Your Dream Job! – How Do I Become a Night Nanny?
Experience: Experience is probably the most important part of becoming a night nanny. Being comfortable with newborns and baby care is something that only comes from having worked "on the job." Experience can come from being a parent, friend, nanny, daycare center worker or hospital nursery. If you don't have this experience you can find a mentor or shadow an experienced caregiver to get your own experience.
Newborn Care Training Certificate – Remain up to date and understand current safety and care protocols. Online certificate training such as the Newborn and Postpartum Care course at Teachable's Newborn Care Academy are a must-have. Completing this type of certificate course demonstrates to perspective families that you understand SIDS prevention, safety, feeding, soothing and sleep expectations.
How Much Does a Night Nanny Make?
It definitely depends on your area of the country, but a good rule of thumb is that a Night Nanny can expect to earn several dollars more per hour than a Certified Nursing Assistant or Home Health Aide. Night Nannies don't typically work with medical devices but the rate of pay is usually on par or better than traditional home health agency rates.
How Much Does a Baby Nurse Make?
We use the term Baby Nurse in the legally protected sense, referring to Registered Nurses (RN) or Licensed Vocational Nurse (LVN). These Nurses can expect to make between $24 and $40 per hour for overnight care, depending on where they live in the US. For teaching Baby Basics classes and performing postpartum visits at Let Mommy Sleep, Nurses earn $50 per hour.
What's the Difference Between a Postpartum Doula and a Night Nanny?
The word doula is an ancient one that has come to mean "mother the mother." (It actually means "female slave" but that's for another post!) While this scope has certainly been expanded to include all family members, the spirit of support is still the same. As the Doulas of North America (DONA) website says, Postpartum doulas understand what everyone needs, and part of their role is to help the entire family adjust and settle in. This can mean cooking, nannying toddlers and older kids and performing household tasks. Because of the focus on the household, postpartum doulas can offer support at night, but typically work during the day.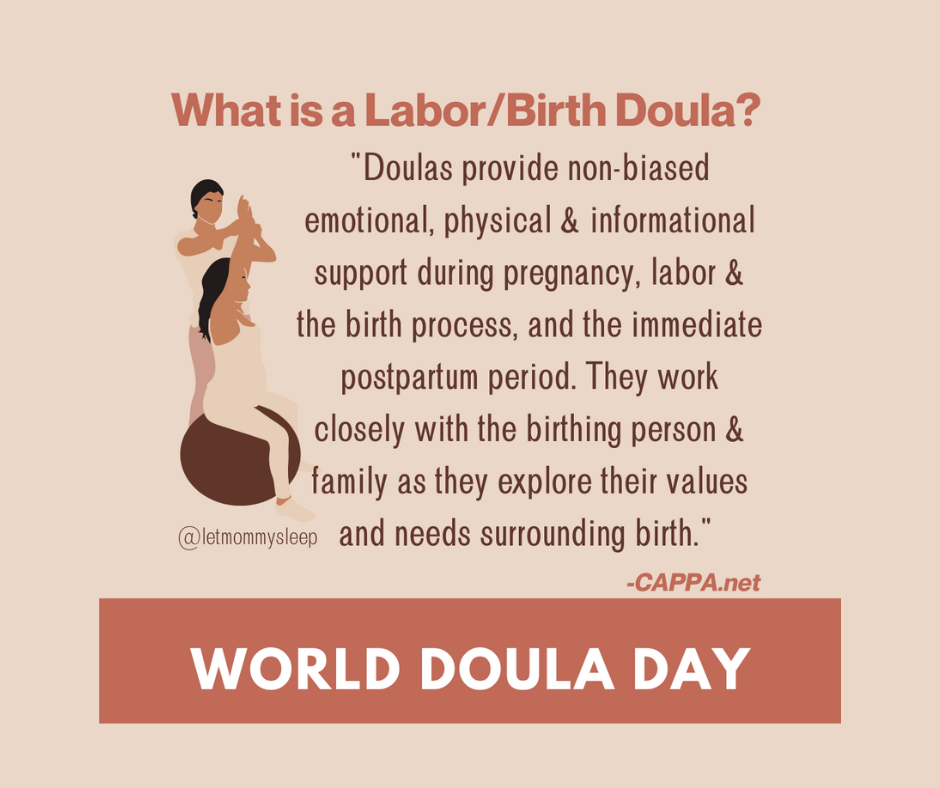 The two most highly regarded organizations that educate birth and postpartum doulas are DONA International and Childbirth and Postpartum Professional Association (CAPPA). Both offer education, certification and ongoing training. However, it's important to note that while certified, birth and postpartum doulas are not licensed. Certified Nurse Midwives (CNF) and Certified Midwives (CM) are the only birth professionals aside from physicians and nurses, regulated and legally recognized on the state level.
In contrast, a night nanny typically works overnight. While some household tasks can be done overnight, the focus is on allowing the entire family to sleep. This sounds simple but is crucial to the families health.
Just a few of the reasons sleep is crucial:
It aids in recovery from birth
Deep, restorative sleep fights postpartum depression and mood disorders which are the most common complication of pregnancy
Sleep keeps our immune systems healthy and strong
Restful nights allow parents to be present during the day, not just for their newborns but for older kids and work.
Unless they hold a clinical license such as Certified Nursing Assistant or Home Health Aide (aside from nurses), a Night Nanny may not be licensed. For this reason it's a good idea to hold certificates in newborn care, safety and lactation.
Night Nanny or Baby Nurse: How-To Get Your Dream Job! – What's the Difference Between a Baby Nurse and a Postpartum Doula?
This is an easy one! The term "Nurse" is legally protected in most states. So calling someone a baby nurse means that they are a Registered Nurse (RN), Licensed Practical Nurse (LPN) or Licensed Vocational Nurse (LVN) focusing on prenatal, neonatal or postnatal care. While these days the term Baby Nurse might be seen as outdated by some, there's no denying it's become a generic term for "newborn expert," the same way the word tissue is interchangeable with Kleenex and no matter the brand, every icy treat is called a Popsicle!
What's it Like to Work at Let Mommy Sleep?
Working at Let Mommy Sleep means you will typically work from 10pm-6am. During this time you're diapering, swaddling, soothing and feeding the newborn. You're also providing evidence-based education to their families. As baby gets older and is able to sleep longer stretches through the night, we help baby to sleep independently. We often care for twins and triplets as well. The overnight shift is not for everyone, but it's an intimate, peaceful way to support families. Providers do this job for deep personal satisfaction, to gain experience while they are in nursing school and to have quality time with their own families.
Here's what Let Mommy Sleep offers you:
Flexible scheduling – You make your own schedule and can work as little or as much as you like. We also love our PRN team!
A wonderful team to support you – Every LMS owner is a Registered Nurse, Licensed Clinician or Postpartum Specialist. We know what it's like to work in the field because we've all done it too!
Make a difference by educating and caring for families who are transitioning home with their newborns.
Patient ratio of 1:1 or 1:2 😄
Pay is on the upper end of CNA and Home Health Care rates in each city. Registered Nurses can expect $25 -$35 per hour (depending on which city they're in).
Teach Baby Basics classes or conduct 1-2 hour Postpartum Visits.
Free education and continuing education certificates
What can I do to prepare for a career as a Night Nanny?
Get Vaccinated: We understand people have different feelings about the COVID vaccine. But the truth is we've never met a family that wanted an unvaccinated newborn caregiver. Get the vaccine, update your flu-shot and at the very least update your MMR (Measles, Mumps and Rubella) and TDaP (Tetanus, Diptheria and Pertussis). These are universal recommendations from pediatricians.
Stay Educated: There's still no nationally recognized certification for newborn care providers. Yes there are certificates, but that is different than certification where there is a governing body to accept complaints and feedback. For this reason it's crucial to remain up to date on American Academy of Pediatrics feeding, care, safety and safe sleep recommendations.
Further that Education: You can attend sleep training, lactation or early childhood education classes to further your training.
Get Comfortable with Babies and Parents: There's no substitute for experience so care for newborns and infants whenever you can! Ask questions, find a mentor or volunteer your time. We can help you with this!
Infant & Child CPR Certification: Regular CPR class is great- infant CPR class is even better for working in newborn care.
Night Nanny or Baby Nurse: How-To Get Your Dream Job! Apply Now!
If you're ready to apply for a position with us, complete an application in your city here. Or send your resume to: care(at)letmommysleep.com. You can also visit us on Indeed and read what current and former staff have to say!