You have everything for your newborn…but what about you?! Hospital Bag Checklist: Our Nurses Favorites includes comfort items to bring to the hospital or birthing center.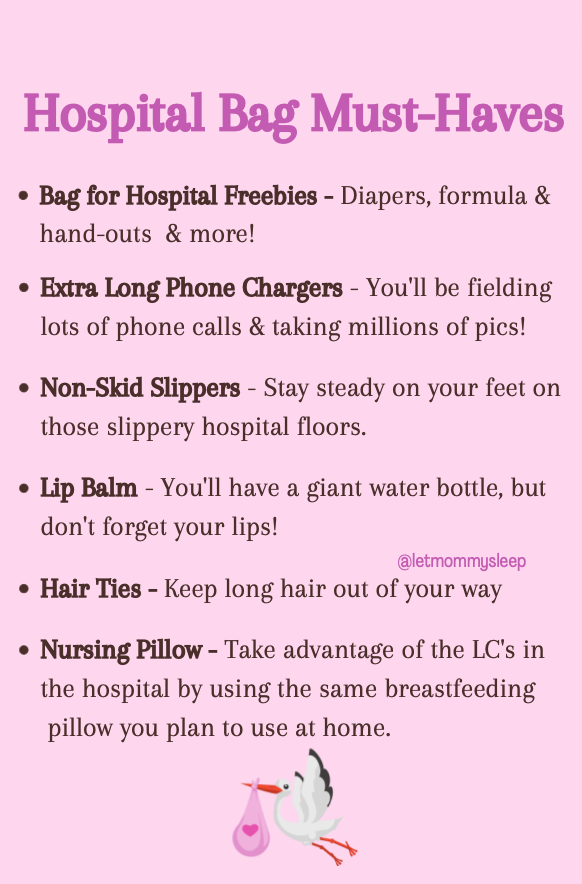 Hospital Bag Checklist: Our Nurses Favorites
Bag for Hospital Freebies: A bag for your bags is essential! You'll have lots of hospital freebies such as diapers and parenting hand-outs to bring home.  This one might be a little on the nose for some, but a foldable duffel bag can be helpful too! Something to bring your discharge orders, pamphlets, formula and giant water bottle home will be helpful.
Extra Long Phone Chargers: You and your partner will be fielding LOTS of phone calls and taking millions of photos…don't forget that extra long phone charger so the phone will always be within arms reach.
Your Postpartum Outfit: The newborn coming home outfit and carseat are all ready but don't forget your own clothes.  Loose clothing that won't rub against your tender mid-section and has a bit of give while your body is in the postpartum phase is a must. For this reason, plenty of new moms choose to keep their maternity clothes for a while.  If you're breastfeeding, your new go-to clothing options are those that make nursing easy. Nursing tanks and loose shirts are perfect and this nursing dress is easy to pack, functional and -if you're into being stylish- pretty cute.
Nursing Pillow – Take advantage of the lactation counselors in the hospital by using the same breastfeeding pillow you plan to use at home. If you're formula feeding, you'll likely still use a nursing pillow to hold baby. Bringing your nursing pillow with you can help you feel confident at home.
Non-Skid Slippers: Just like our team does in the family home, be sure to have non-slip footwear for walking on those slippery hospital floors. This is for your safety and the safety of your precious newborn when being held.
Lip Balm: We all know that giving birth means staying hydrated! Remember to keep your lips hydrated after baby arrives as well. It's a small comfort your body might really appreciate.
Car Seat: A car seat won't be in your bag of course but we like to remind parents that you won't be able to leave the hospital without a properly installed, height/weight and age appropriate car seat. If baby is born at 37 weeks or before, s/he will have the pass the "Infant Car Seat Challenge" before leaving. Because pre-term babies' airways can become constricted, hospital staff will perform the Challenge. Your baby is secured into a car seat, which is reclined to the appropriate angle for travel, and nurses will monitor the respiration and oxygen levels of the baby for 90 to 120 minutes. Babies who pass the test are cleared to leave the hospital. 
For the full list of Hospital Bag suggestions, visit our Amazon Store, amazon.com/shop/letmommysleep. And if we should add or takeaway any items, let us know on Facebook!