Many parents are looking for a routine to help their baby have a consistent daytime routine and eventually sleep through the night. Baby Sleep Schedule for a 10-11 Month Old provides a sample to get started.
Baby Sleep Schedule for a 10-11 Month Old
This is the latest in our social sleep consult series and is taken directly from one of our sleep consultations.  If we can ever help with your baby's sleep just give us a call or use #AskLMS on social media and we'll help as best we can. Before we begin, make sure Pediatrician:
Rules out any physical or medical conditions that are affecting sleep habits.
Gives the okay to begin sleep training, meaning about 8-10 hours of uninterrupted sleep.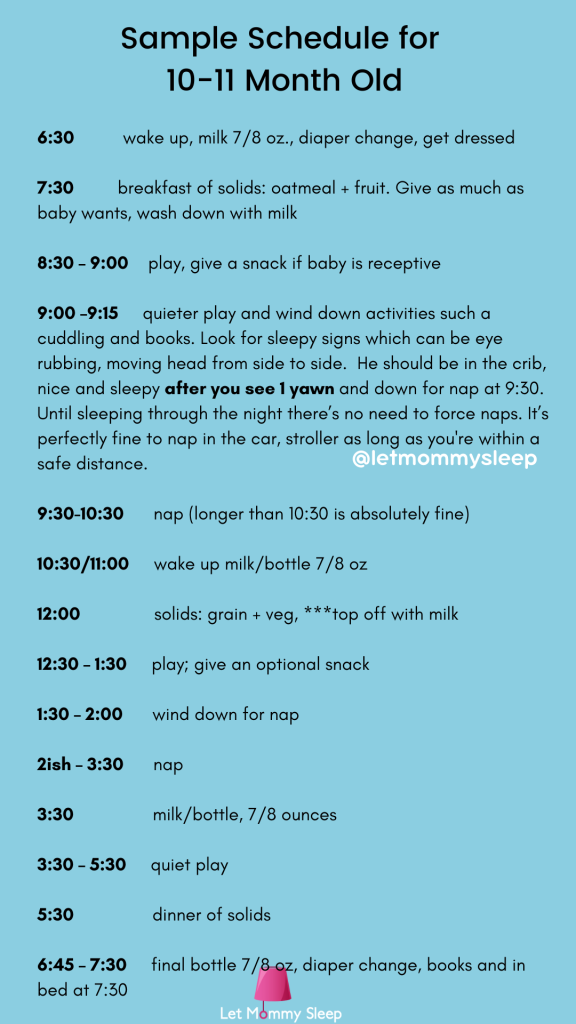 Once you get the pediatrician's approval and you are sure baby is not waking overnight due to hunger because s/he's taking in all of his calories between 6:30am and 10pm, you can begin sleep training using whatever sleep training method makes you most comfortable.  The method we defer to is called Slingshot which is basically staying close to baby but not intervening as they find their way to "get" to sleep. You can find step-by-step instructions on how to do Slingshot and get baby to sleep through the night here.   
Things to remember:
THIS IS JUST AN EXAMPLE. It is FINE if your schedule differs, but the goal is to have defined eating times to set the stage for long sleep overnight.
We are just using 6:30am as a starting point. If baby wakes earlier or later, simply adjust the schedule accordingly. For example, if he wakes at 7:00a, adjust this schedule forward 1/2 hour.
You are aiming for about 28 oz of milk per day as well as 3 meals of solids (which you already do).
We are teaching baby to have a start and an end to the day rather than have a 24 hour schedule.
If you have a question on helping your twins or single baby sleep through the night, contact us on Facebook or Twitter using #AskLMS.