Advice for New Parents from Author Kristina Schnack Kotlus, author of I Quit: Facing Cancer with Faith, Family and Friends. Written by a brain cancer survivor, I Quit provides strength and encouragement to individuals struggling with cancer from the perspective of someone who has experienced it firsthand. Candidly sharing her experiences with chemo, radiation, and doctors, Kotlus outlines how her faith and family directed her cancer journey, and how she maintained a positive attitude in the midst unfortunate circumstances.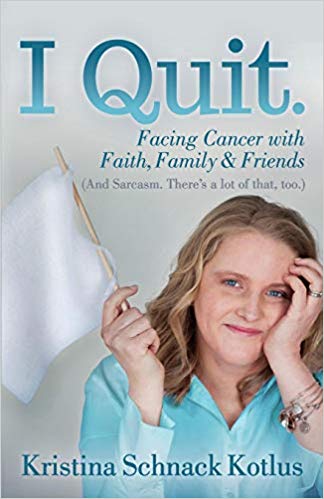 I Quit: Facing Cancer with Faith, Family and Friends encourages patients with a positive Christian message to choose joy and choose peace in the midst of cancer's turmoil. Filled with raw, honest emotion balanced with humorous anecdotes and encouraging words of wisdom, I Quit features themes of determination and resilience that will inspire those diagnosed with cancer to keep fighting, and push through their diagnosis. 
Given her unique perspective, we asked the author her advice for new and expecting parents.
Having been through so many unpredictable ups and downs, what's your advice to expecting and brand new parents just starting their family journeys?
I am going to give you two:
First, you will NEVER regret the time you spend with your babies, so don't let anyone tell you that you should feel bad if you take an extra week before you go back to work or if you work from home every time their daycare is closed. I opted to stay home with my children, and am still home with them because we homeschool, and looking at possibly not making it out of brain surgery alive, I regretted many things, but my time with them was not one.
Second, listen, stuff happens, and as a parent one of your jobs is to provide your children with as much stability as possible, even if you can't be there.
Get a will. Select the people that will take your child if the unthinkable happens, and make sure you ask them if they're willing to do it. Our will has so many if/then statements that we have 5 people listed to take our kids in order of who we want first. Saving for the future is important, but make sure you have a saving for now- try to get to 3-6 months of living expenses saved up so that if you are sick or injured, or your child is, you won't have to panic. I know that's hard, and you don't have to do it TODAY, just start working towards that goal. 
Curious to know your thoughts on coronavirus, having literally faced down cancer twice…what do you think of the public response?
They typically estimate 1,735,350 new cases of cancer will be diagnosed in the United States and 609,640 people will die from the disease each year, but despite the likelihood of that, I don't really see people in a frenzy to get checked or change their lifestyle if they are smokers, etc. But the big thing for me is that my whole approach is to chose faith over fear, so I really want to encourage people to do what they CAN do, like wash their hands, or make arrangements to stay home if their immune system is compromised, and then let go of the future outcome.
Your fear and worry cannot change what will happen, so let that part go- which is all part of my "I Quit" philosophy. Also, stop hoarding the toilet paper, because we're going to run out soon!
More about Advice for New Parents from author Kristina Schnack Kotlus
Kristina Schnack Kotlus is a brain cancer survivor. She has a degree in Comparative Religion from George Mason University by way of Holy Cross College. She was baptized a Lutheran, currently attends an Assemblies of God church, and is married to a non-practicing Jew. Her writing has been published in numerous local magazines and newspapers. Kristina was recognized as Blogger of the Year in Northern Virginia, 40 Under 40 in Northern Virginia, and an Influential Woman in Prince William County. She currently resides in Manassas, Virginia, with her husband and three children, who she homeschools.
If you are a blogger, author or expert with a perspective on newborn care or parenting to share with our audience, please let us know!