In this digital age of parenting, baby monitors and apps for smartphones are the norm. As with anything connected to wi-fi, they're not perfectly safe though. We've all read stories where hackers have yelled at babies or turned on the camera to watch what's happening in the nursery.  Breastfeeding moms, sleeping babies and families going about their day have had their privacy invaded by online predators. Here are some simple things you can do to ensure security and Baby Monitor App Safety.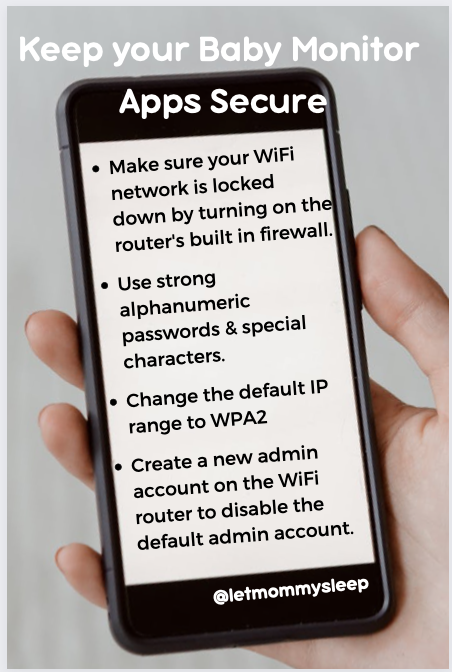 The main concern with anything wireless is that the signal can be found if users have default or easy to figure out passwords. When this happens, the signal can be hijacked. Hackers can then view all the traffic on the network. They can then easily communicate with your baby, or see what's happening on camera. As a dad whose monitor was hacked in his young daughter's room said, "I felt like somebody broke into our house."
Baby Monitor App Safety
To avoid vulnerability to hackers:
Make sure your home WiFi network is locked down as much as possible to prevent hacking by turning on the router's built in firewall.
Use strong alphanumeric passwords and special characters.  If your password is difficult to guess, most hackers won't even bother.
Change the default IP range to WPA2
Create a new admin account on the WiFi router (no "admin" or "administrator" usernames) and disable/delete the default admin account .
Although nothing is foolproof, using the steps above makes your smartphone baby apps less vulnerable. This helps create a secure environment for your baby. Another option is to use an app that triggers a warning if it senses illegal entry. And of course, you can always go old-school with walkie-talkie style monitors that don't require internet!
One last thing – when your child is old enough to use a smartphone remember to keep *it* secure too!