You may have heard that the best time to have photos taken of your baby is within the first two weeks after your baby is born.  Getting baby pictures where I live in Northern VA can be quite an undertaking when it comes to traffic and schedules but when you consider that parents JUST had a baby, asking them to leave the house at that point is a really big deal…especially when you find out that a newborn session can take up to 3 hours! So what is the best age for newborn photos?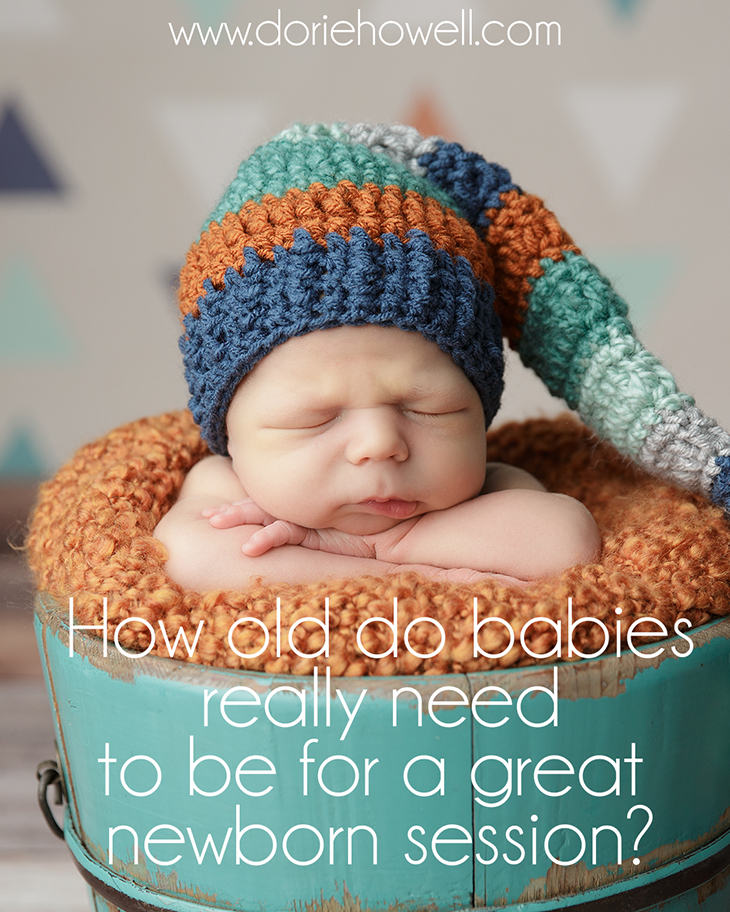 Best Age for Newborn Photos
So when should you have those baby photos taken? The short answer is that a good photographer should be able to get beautiful images of any baby, no matter how old they are.  The ultimate decision of when those images should be taken should be up to the parents, not the photographer.  We can capture your beautiful baby in gorgeous pictures no matter what the age.  You didn't miss your window!  
I will never forget a new momma who called me on verge of tears because a photographer told her that she missed her window to get newborn pictures of her baby and that photographer refused to take the session.  I was so mad for that mom.   Her child was barely 20 days old!  So don't let anyone make you feel like you missed anything.  You are doing a great job and we can get great images for you to treasure.
There are different thoughts among photographers about how long a baby is considered a newborn.  Some say until 28 days and other say up to three months old.   Your pediatrician will say that the newborn stage is 3 months.  So why do most photographers say that newborn images should only be taken within the first two weeks of baby's life? 
Why do most newborn photographers say that images should be taken within the first two weeks of baby's life? 
There are a few reasons:
1. As soon as babies are born, they want to uncurl and spread out: The older they get the more "uncurled" they become, so the first 2 weeks of baby's life is the easiest time to get these sweet curled up shots we imagine when we think of newborn photography.
2. Babies can wake easily: Because very young babies are able to get into a deep sleep a little easier than older babies, they are less apt to wake because of their startle reflex. The advantage of photographing babies when they are very young is that once they are in a deep sleep, they usually stay there.
3. Positioning.  As I mentioned earlier, once babies enter the world they start uncurling and taking up more space.  As they grow they don't want to be squished up anymore!  It can make getting the perfect shot a little harder but should not prevent your photographer from getting beautiful images of your sweet new baby.   While there are some advantages to having photos taken early in the very early weeks of baby's life, we can get lovely images no matter what baby's age.   
This post was contributed by Dorie Howell, Newborn & Family Photographer in Northern Virginia.  You can see Dorie's work here! If you're an expert like Dorie with something to share please let us know!