Welcoming a newborn into your life is exciting and life-changing! As a new parent, you might find yourself in need of professional assistance, especially the first few weeks postpartum, and that's okay! That's where certified newborn care providers (NCP) come in. In this blog, Proud To Be A Cribs For Kids Safe Sleep Partner! we explore what it means to be a certified newborn care provider. Additionally, how being a trusted partner of Cribs for Kids, gives parents peace of mind that their newborns are receiving the highest level of safe care from Let Mommy Sleep.
Proud To Be A Cribs For Kids Safe Sleep Partner! – What's Cribs for Kids?
From CribsforKids.org: The mission of Cribs for Kids® is to prevent infant sleep-related deaths by educating parents and caregivers on the importance of practicing safe sleep for their babies and by providing portable cribs to families who, otherwise, cannot afford a safe place for their babies to sleep.
Cribs for Kids has been advocating for safe sleep practices and educating parents and the public since 1998. This incredibly important work led them to become a nationally recognized non-profit in 2002 and while still keeping education at the forefront of the mission, the organization decided to help in a more concrete way- by making sure that every baby that needs one has a safe sleeping environment! This means actually distributing safe cribs and partnering with public safety community organizations through their National Public Safety Initiative. Let Mommy Sleep is PROUD to be a community partner!
Proud To Be A Cribs For Kids Safe Sleep Partner!- Understanding the Role of a Certified Newborn Care Provider
Becoming a certified newborn care provider (NCP) involves training to support new parents and their infants during the postpartum period. This training is overseen by a third party Advisory Board and has been used by county and statewide education programs. The services provided to you by our specialized night nannies and postpartum doulas include:
Overnight Newborn Care: Certified providers have the expertise to provide your newborn or twins diapering, and soothing techniques.
Breastfeeding and Bottle Feeding Support: Non judgmental guidance and evidence based support for you, whatever feeding methods are used.
Postpartum Care: Assisting new mothers and fathers with postpartum recovery and mental health monitoring, meaning mobility support post c-section, screening for postpartum depression and more.
Infant Safe Sleep: Ensuring a safe sleep environment to minimize the risk of SIDS; a crucial aspect of professional newborn care.
Safe Care of Twins and Multiples: Your twins may arrive prematurely. Feeding and caring for your twins at the same time means understanding specific safety and feeding techniques. Did you know twins usually eat every 2 hours? This means 24 feeds in 24 hours!
Two Trusted Names in Certified Newborn Care and Safe Sleep
Let Mommy Sleep is a renowned provider of certified newborn care services, trusted by thousands of families across America. Our nurses, night nannies and postpartum doulas are expected to be experienced upon hire. To ensure they are adhering to the highest standards of care, they also undergo training to become certified in newborn care. This means they can support you with evidence-based education and compassion. Here's what that means for you:
Newborn Care: Let Mommy Sleep's caregivers are experienced in handling newborns with care, ensuring their comfort and well-being.
Helping Baby Get into a Routine: Healthy sleep patterns for both your baby and you are important if that's your goal? Establishing a routine or schedule promotes better sleep for everyone.
Breastfeeding Support: The Let Mommy Sleep team includes lactation consultants who offer invaluable assistance to breastfeeding mothers.
Postpartum Care: They provide physical and emotional support to new mothers, aiding in their recovery and mental well-being.
Safety: What sets Let Mommy Sleep apart is going above and beyond in their commitment to safety and safe sleep. As a Cribs for Kids Safe Sleep Partner, we prioritize creating a secure sleep environment for your newborns and infants. All of our night nannies, newborn caregivers and postpartum doulas adhere to Cribs for Kids' guidelines and are Safe Sleep Ambassadors.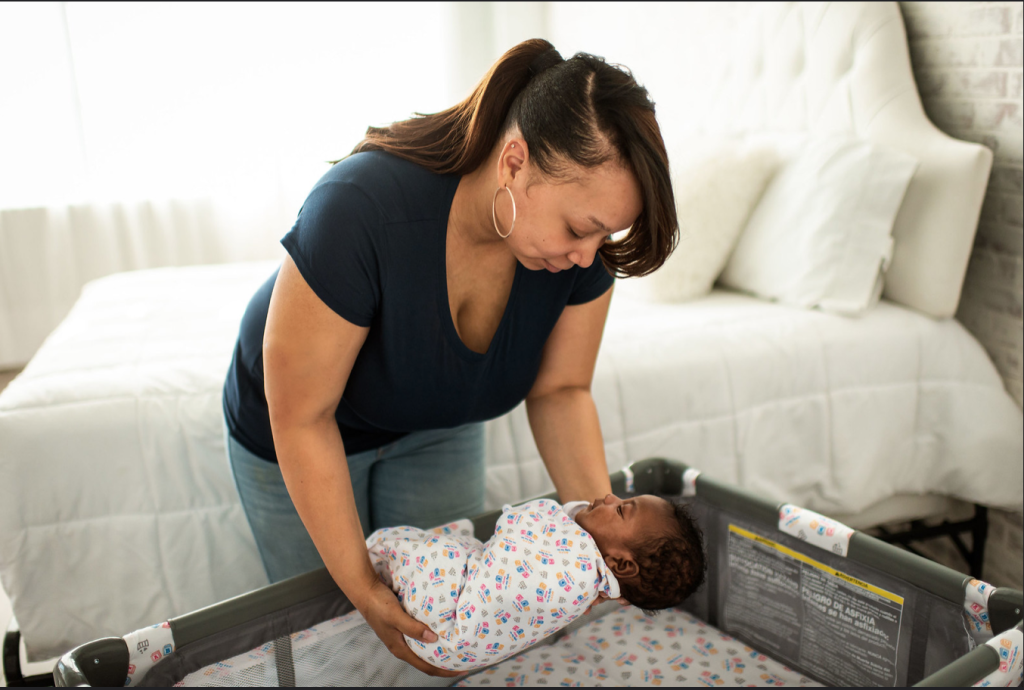 Proud To Be A Cribs For Kids Safe Sleep Partner! – The Importance of Safe Sleep Partners
In a time where there's no license to care for infants, Let Mommy Sleep's partnership with Cribs for Kids is a testament to our dedication to providing the highest standards of newborn care. Being a Cribs for Kids Safe Sleep Partner means we're fully committed to ensuring the safest sleep environment for your baby. Further, in a time where social media can muddy the educational waters, we actively promote evidence-based education and awareness regarding safe sleep practices. As partners, we're able to promote evidence-based safe sleep practices to a wider audience of expecting and new parents.
Lastly, as we always say, Just because they sell it, doesn't mean it's safe! There are so many products on the market that are not safe for infant sleep. In fact, baby gear such as loungers, sleepers and swings which place baby on an incline can cause a risk of suffocation. This is due to the incline at which baby is placed; their airways can become blocked if they lean forward. For this reason, the only safe sleep environment for baby is alone on their backs on a firm, flat mattress free of toys, blankets or other items.