Dr. Kelly Johnson-Arbor is board certified in Emergency Medicine, Medical Toxicology, and Undersea and Hyperbaric Medicine. Currently, she serves as the medical director of hyperbaric medicine at MedStar Georgetown University Hospital in Washington, DC. She is co-medical director of National Capital Poison Center. Below Dr. Johnson Arbor shares expertise on how parents can avoid poisons and also the ways to contact Poison Control such as through The Poison Control App if needed.

Best Advice from Dr. Johnson-Arbor
Below are Dr. Johnson-Arbor's best pieces of advice for anyone with children in their care.
Older infants and toddlers love to explore their surroundings, and this is natural and normal behavior for young children. Because of this, it's very important for parents and caregivers to keep all potentially dangerous substances up, away, and out of sight of young children. Even common household products that appear harmless, such as a box of baking soda left on a countertop or a tube of toothpaste stored on the bathroom sink, can be poisonous if swallowed by young children. Babies and toddlers are smart and can often open even child-proof containers, so there is no substitution for adult supervision and vigilance!
Even though we try to be as careful as possible as parents, accidental exposures to poisonous products occur every day. When this happens, Poison Control is available for free, confidential, and expert advice. Parents and caregivers should prepare for possible poisoning emergencies by having the contact information for Poison Control readily available. Here are the 3 ways to do that:
How to Contact Poison Control
Download the free POISONCONTROL app to your smartphone
Bookmark the website www.poison.org – bonus- they post safety tips every day!
Save the toll-free phone number for Poison Control (1-800-222-1222) on your list of phone contacts.
Here are 2 more resources parents and caregivers should have on hand for emergencies: Choking First Aid for Infants and Must Know First Aid Skills.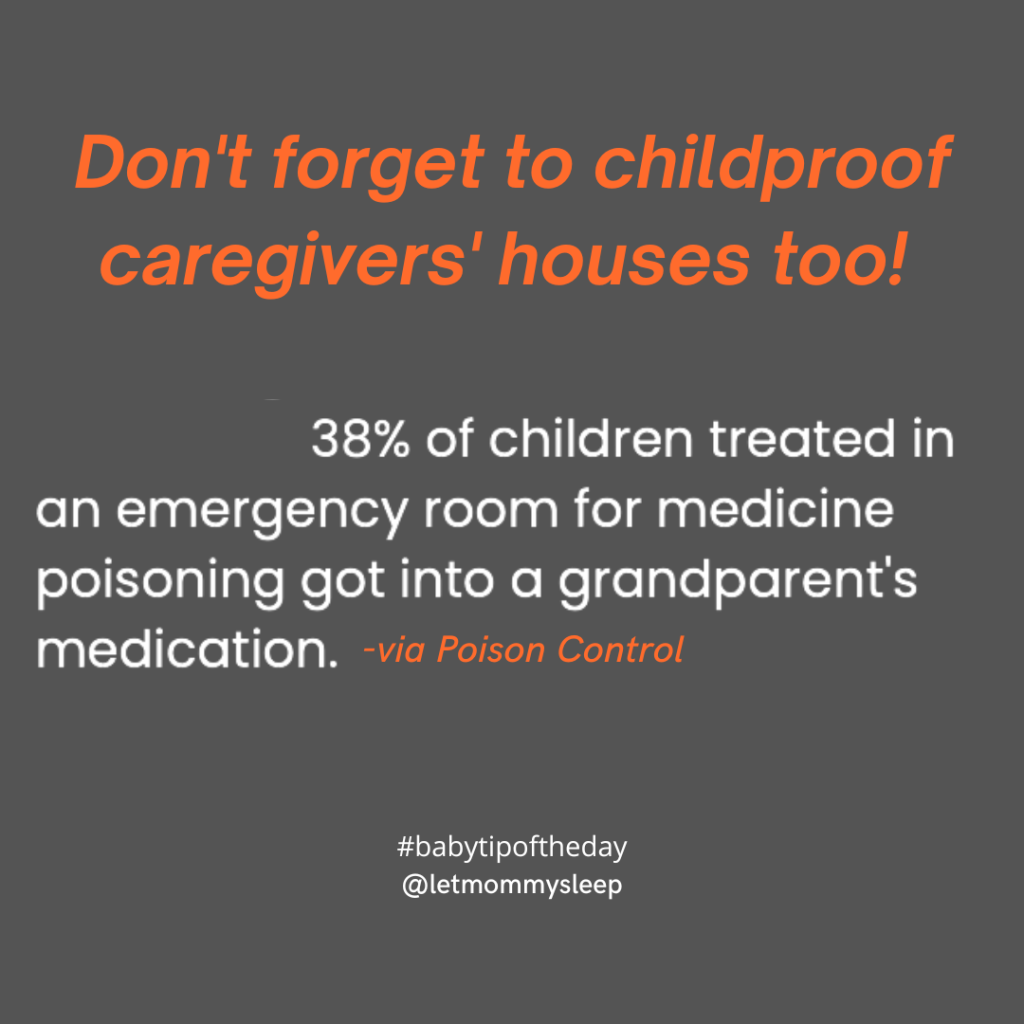 Holiday BabyProofing
In addition to babyproofing your own home, don't forget to baby and child proof caregivers' homes as well. The holidays are such a busy time, but when traveling for the holidays with kids and babies, take time to make sure the destination is safe.
There's no substitute for keeping a watchful eye on your child and this is not an exhaustive safety list, but here are 8 holiday-specific tips to help when visiting a home that may not be already baby proofed:
Bring outlet covers.
Put medications/hazardous items out of reach.
Tie up cords.
Gate stairways.
Take care around pets.
Watch out for boiling pots & hot items while cooking.
Be sure there's a flat, safe sleeping area for baby.
Put the Poison Control number in your contacts.