updated June 11, 2022 – Smart home devices are hands-free which is already a huge value to new parents! But how can Google and Alexa specifically help with newborns and infants? Alexa, Help With the Baby! contains Amazon Echo skills for new and expecting parents.
We all know we can order food, set a timer and check the weather…so here are 6 skills you may not have known about to help with newborns, infants and toddlers.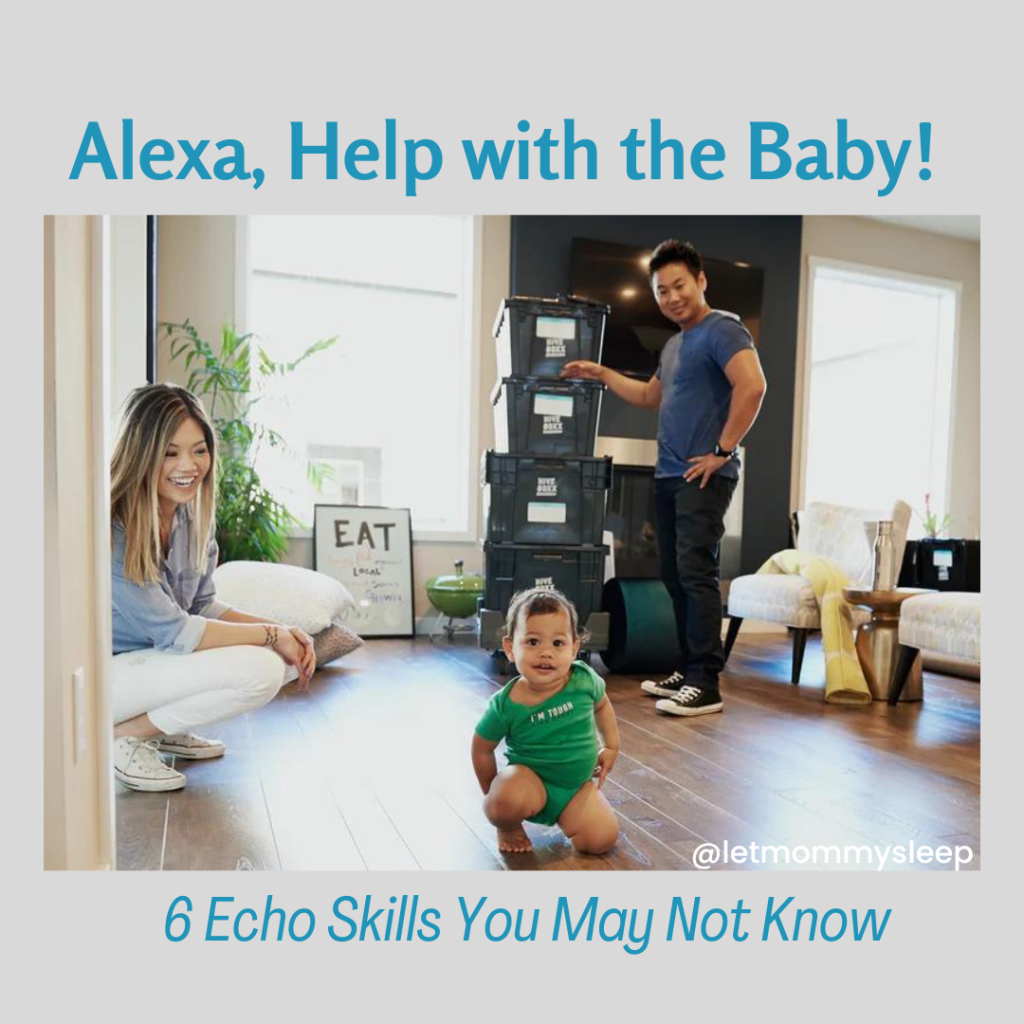 "Alexa, Help With the Baby!"
Integrate with Amazon Prime:
Order diapers, groceries and other essentials for 2-hour or same day delivery. With delivery, you'll never be without diapers, wipes, groceries and other home essentials. This means convenience, but also safety because you won't have to bring your newborn out into crowds. This can be even more of a time-saver for parents with newborn twins and triplets.
Expecting parents can also sign up for discounts and coupons before baby arrives.
Play white noise…safely:
White noise, or reproducing the gentle "shhhh" sound baby is used to hearing in the womb, is a well known way to calm babies and help them get to and stay asleep. There are concerns however that white noise that's too loud or too close to babies' ears can harm hearing and speech development. Playing white noise via the Echo means parents can control the volume and duration of white noise.
Secure baby monitor:
The Echo Dot (audio only) or Echo Show (for audio and visual) can be purchased as companions to the main device and can moved from room to room for safe monitoring of baby's nursery and other areas. Because the Echo is typically tied into your home wifi, hacking is rare, but for extra protection, families can password protect or even use fingerprint authentication to secure Alexa.
Just say, "Alexa, drop in on the nursery" to check in on your baby anytime!
Play music, jokes and stories of course!
Ask Alexa to play gentle chimes, dance-party music, kid-friendly jokes or even tell a story to help engage the whole family. We personally like this better than kids TV programming -or worse yet, the news!- droning on in the background of a home. No commercials and families can get moving, laugh and talk together without having to sit around the television.
Baby Stats is Amazon's skill to track diaper changes, feedings, weight, pumping sessions and sleep. Breastfeeding moms never have to worry about forgetting which side baby last nursed on, and parents have all baby's vital information ready for the pediatrician. This is another great one for parents of multiples! Baby Stats also stores this information so it can be shared by babysitters, nannies and anyone else caring for baby. Baby Stats can also provide a daily "kick count" and due date countdown during pregnancy!
Enable Alexa Routines
As it says on Amazon, Alexa routines "consist of a single trigger, which is the event which starts the Routine, followed by actions which are the things Alexa does during the Routine." You can create Routine for Baby's Bedtime for example. One way this could work is to say "Bedtime" and then Alexa will dim the lights and play soft music while you put on your infant's pajamas and transition to the quiet of nighttime. When your child is older Alexa can be a bedtime countdown timer.
Do you have older kids? Read about keeping them safe while using iPads and other devices.
As with all electronic devices, experts warn that usage should be limited. In an NPR interview, Solace Shen a psychologist at Cornell University who studies how children interact with robots, said: "These devices offer more engagement and interaction than just passively watching TV, but that interaction is still impoverished compared to talking to a parent or teacher." Shen says to treat Alexa as you would a tablet, with strict limits. If you have more Alexa tips, let us know!