Pools, the ocean, rivers and lakes can all be fun places for a family swim. What's more, swimming is healthy for us in many ways! Before heading out though, take time to learn or refresh yourself on the basics of swim safety, sun safety and drowning prevention.
Swim Safety, Sun Safety and Drowning Prevention
Actively Supervise Children
Give children your undivided attention around water; this means no phones!
Whenever infants or toddlers are in or around water, an adult should be within arm's reach to provide active supervision. Small children can drown in as little as one inch of water.
As SafeKids.org says, using the Water Watcher strategy if there's more than 1 adult watching the children is an excellent idea. This means each adult has a scheduled amount of time to prevent lapses in supervision, ensuring adults know when it's "their time." Adults can decide to hold the card for any amount of time, let's say 15 minutes each. The cardholder is IN CHARGE of supervision when they have the card; no phone, no other distractions. After 15 minutes simply pass it on to whoever is next. You can download a water watcher card below or even just print this one out.
Swimming Pool Safety
Backyard pools should be fenced at a minimum of 4 feet high with self-closing, self-latching gates, therefore preventing a child from getting in without an adult.
When using inflatable or portable pools, remember to empty them after use. Store them upside down and out of children's reach.
Install an alarm so you'll be alerted if a child wanders into the pool area.
Be Aware of Drains
Teach kids never to play or swim near drains or suction outlets. Public wading pools, in-ground hot tubs, or pools that have flat drain grates or a single main drain system are especially dangerous due to the intensity of the suction.
Replace flat drain covers with dome-shaped ones
If a pool or hot tub has a broken, loose or missing drain cover, err on the side of caution and don't use it.
Swim Safety and Drowning Prevention: Teaching Kids
Teach children that swimming in open water is not the same as swimming in a pool. Sudden drop-offs, currents and undertow are factors they need to understand.
Educate children to never go near or in water without an adult actively supervising.
Whether in a pool or natural body of water, make sure kids swim only in areas designated as safe because there are likely unseen dangers in those spots.
Everyone needs to know that water wings or pool noodles should never be used in place of a U.S. Coast Guard-approved personal flotation device (PFD).
Drowning
Drowning continues to be a leading cause of death for children. Despite what we see in the movies and television, it is actually very subtle.  The struggle to breathe is quiet, quick and several of the signs happen underwater, where we may not be able to observe swimmers distress. Children should *never* be unsupervised while swimming but knowing the physical signs of struggle in the water and drowning can help save lives. 
These are the signs that someone is struggling in water:
Head tilted back in a position to try to get air
Mouth is at water level
Vertical Body – upright instead of horizontal
Facing Land – a drowning person is usually facing land
"Ladder climbing" – a drowning person looks like they are climbing a ladder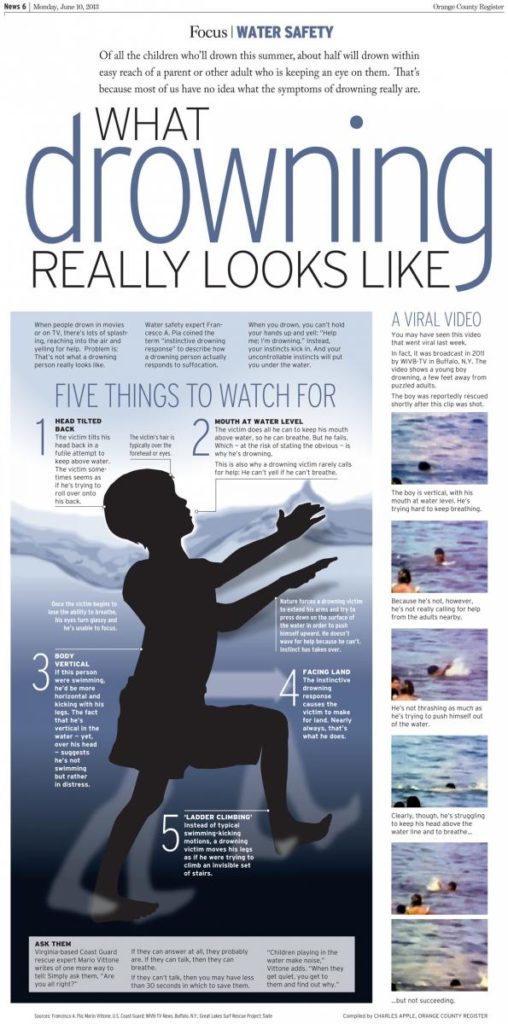 Swim Safety, Sun Safety and Drowning Prevention – Tips for Infants in the Sun
Newborn and infant skin is very tender and should be protected from the sun, but sunblock shouldn't be used. Little ones often react poorly to the chemicals in sunscreen and can develop a rash or irritation. If your baby is younger than six months, it's important to follow these essential sun safety tips for infants.
Most experts do not recommend putting sunscreen on babies younger than six months. When compared to older babies and children, younger infants have a higher surface area to body weight ratio, putting them at greater risk when exposed to the chemicals. Plus, infants have immature, sensitive skin that can easily break out in rashes.
Essential Sun Safety Tips for Infants
Avoid peak sunlight hours (typically between 10 a.m.-2 p.m.) to minimize exposure to harmful UV rays.
Keep baby in the shade by using an umbrella, beach tent or shaded stroller.
Dress baby in clothes that covers his/her skin and a brimmed hat. Tight weaves are the best. If baby's clothing is sheer or see-through, it will not do a good job protecting the skin. Hats should have a wide brim to protect the face, ears, and neck.
Since younger babies have not fully developed sweat glands, be sure to constantly monitor your infant for signs of overheating.
Keep baby hydrated by offering breast milk or formula. Bring a cooler and follow safety instructions when storing liquids.
Watch baby's urine for signs of dehydration. If urine appears darker or less than usual, baby could be at risk for dehydration and should be moved to a cooler location.
For additional sun safety tips for babies, follow these recommendations by the FDA.
For children age 6 months or older, the Environmental Working Group's 2022 list of safest sunscreens for children lists 73 products that meet its safety standards. This means these sunscreens provide adequate sun protection while avoiding ingredients linked to known health harms. The ingredients of concern are homosalate, avobenzone and oxybenzone. These chemicals have endocrine-disrupting effects. These means they interfere with normal functioning of the endocrine system and the reproductive and other biological processes regulated by it.
The good news is that it's very easy to find safe sunscreens. Common brands which the EWG ranks a Number 1 in safety include: Adorable Baby, ATTITUDE, California Baby, Earth Mama and more.