Parents, doulas and nannies, you now have more options to learn about newborn and postpartum care! Not only do we have lots of information here in the Resource Center and on the blog, but Newborn Care Classes are now also offered in your home or online. Learn about them here:
Newborn Care Classes at Home:
Baby Basics – $100 per hour
A Registered Nurse provides evidence-based education and postpartum support in your home. You can schedule a class before or after baby arrives, and you can have as many family members and caregivers attend as you like! We're also here for you after class and encourage ongoing questions and communication.
What you'll learn:
Breast & bottle feeding, safety, minimizing SIDS risk, diapering, bathing, soothing and getting baby on an appropriate schedule
Nurses perform postpartum mental and physical health assessments
Staff provides ongoing virtual support as needed. For example, if you have sleep questions when baby is 4 months old, you can always shoot us a text!
We teach all the how-to's: how to diaper, swaddle, burp, feed and more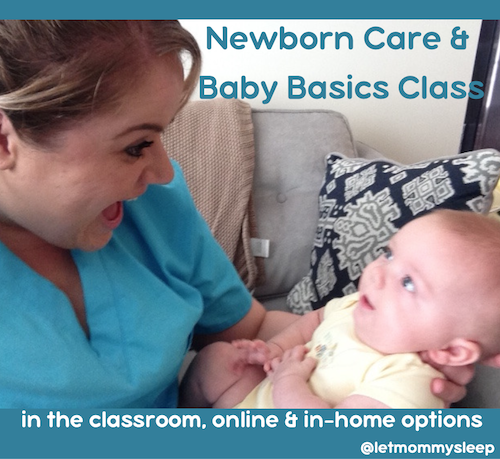 Newborn & Postpartum Care Online
Our virtual Newborn Care Academy is available on Teachable.com (https://newborncareacademy.teachable.com). It's been vetted and updated by Nurses and Pediatricians and uses only primary sources. These classes are the online version of what we teach in the classroom to nanny agencies, Certified Nursing Assistants and home health aides, so they're appropriate for professional postpartum doulas and caregivers. Once the class is successfully completed, you'll receive a certificate of completion.
For parents, the newborn and postpartum care virtual classes are particularly helpful as they contain videos and opportunities further study. The information is also permanently available across all devices, so you can refer back to the material even after class is finished.
We cover these main topics in the virtual class: Safe Sleep and SIDS, early feeding, how-to videos on swaddling, diaper changes, burping, post-birth care, mental health information and more. You can see the whole curriculum by clicking below:
For Older Babies- Online Sleep Training Class
Once your pediatrician gives the green light that baby is able to sleep long stretches overnight, t Let Mommy Sleep we will always help talk through your infant sleep questions at no charge. If you prefer, you can take the sleep training class here for free and receive a certificate of completion at the end of the course.
The main topics include:
Step by Step Instructions to Sleeping Through the Night
Age Appropriate Sleep Schedules
Troubleshooting Infant Sleep
Safe Sleep and Minimizing the Risk of SIDS