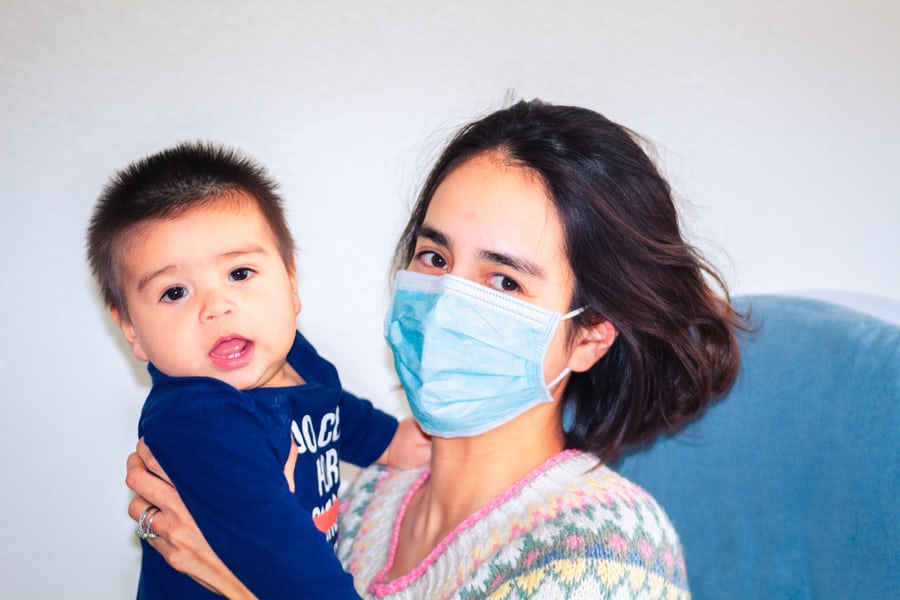 Updated April 13, 2023 – The Public Health Emergency for COVID19 formally ends on May 11, 2023. We know of course that COVID "ended" before this date for many. As restrictions have eased we are no longer quarantining between families or requiring testing unless symptoms present. However, we are continuing to do the following and will continue to update practices as potential health issues evolve with COVID19 Safety Protocols: A Message from the CEO.
What we have always done, and will continue to do:
Handwashing: Caregivers wash hands upon arrival into the family home. We continue hand-washing and sanitizing through the night and before and after all contact with baby.
Vaccines: Following American Academy of Pediatrics and CDC guidelines for healthcare providers, we remain updated on influenza, pertussis (TDaP) and MMR vaccines; illnesses to which newborns are especially vulnerable. As a company, we request proof of these vaccinations, in accordance with the EEOC exceptions for healthcare workers.
COVID Vaccine: 99% of staff are fully covid vaccinated. However there are several caregivers with medical exemption who have not received the vaccine. Families are welcome to have this conversation with us and their caregiver.
Continuing Ed: We provide free continuing education to all staff to ensure we are following the most recent safety, health and care guidelines.
Possible Illness: Staff is kept home at any sign of illness, even if symptoms might be "just allergies."
Mask: Masks will be used upon the request of family. Caregivers can of course also mask at their own discretion.
COVID19 Safety Protocols: A Message from the CEO was Updated Jan 1, 2022. Yes, we are now all vaccinated including the booster. We understand and respect that some folks have big feelings about the vaccine. As an evidence-based newborn and postpartum care company however, we are following the advice of the CDC, The American College of Obstetricians and Gynecologists (ACOG), the Society for Maternal-Fetal Medicine (SMFM) and the American Academy of Pediatrics.
previously updated Jan 11, 2021 – Our Nurses and Newborn Care Providers are now receiving the 2nd round of the Pfizer and Moderna vaccines. Mask wearing is still happening to protect families with children who are not old enough to be vaccinated yet.
previously updated- Dec 1, 2020 Here at Let Mommy Sleep we pride ourselves on using the highest vetting and safety practices possible since we began in 2010. As a company dedicated to evidence-based care, we lean on the recommendations of the CDC, the American Academy of Pediatrics (AAP) and other primary sources. We believe the statement that vaccines for health care workers are "ethical, necessary and just" to protect vulnerable populations such as newborns and infants. 
Coronavirus has caused us to examine and refine our practices even further. While we all wish we weren't in this sensitive situation we're proud to have the opportunity to share our safety practices as well as newer covid19 protocols.
In March 2020, when there were still so many unknowns about coronavirus (which we now call COVID19), Let Mommy Sleep voluntarily shut down. Although we are considered an essential service, the risk was too great to our team, families and newborns. Since reopening we've implemented new safety practices, in addition to our ongoing protocols:
COVID19 Safety Protocols: A Message from the CEO- What we've implemented since covid19: (March 2020-Jan 2022)
All caregivers wear masks, unless family and caregiver are both vaccinated and request not to be masked.
COVID19 vaccinations for all staff when available.
Quarantine following current recommendations.
Routine testing
Routine health monitoring (fever, sense of taste, headache etc.)
What can families and Newborn and Postpartum Care providers do together to minimize coronovirus and illness exposure?
In addition to following CDC recommendations, please leave sanitizing wipes or other household cleaners out for our team to use periodically through the night. We can't always practice social distancing when caring for babies, but we can mask, handwash and clean, clean, clean!
We remain thankful and privileged to be in your homes.
In solidarity,
Denise Stern
CEO, Let Mommy Sleep