Creating a Montessori Home for Babies and Toddlers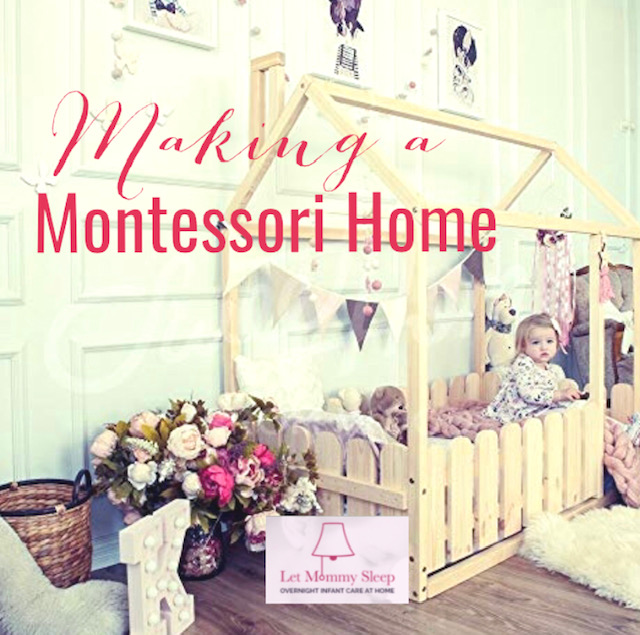 When Dr. Maria Montessori started her classrooms for children in Rome in the early 1900's, she created an environment based around children, with child size sinks, toys and shelves so that the children could freely and independently explore. The children of varying ages were also responsible for keeping their classroom orderly, helping to make meals for each other and cleaning up after play and meals. As a result of this set-up, Dr. Montessori quickly observed that the children were calmer, more caring toward each other and able to focus on activities for longer periods of time.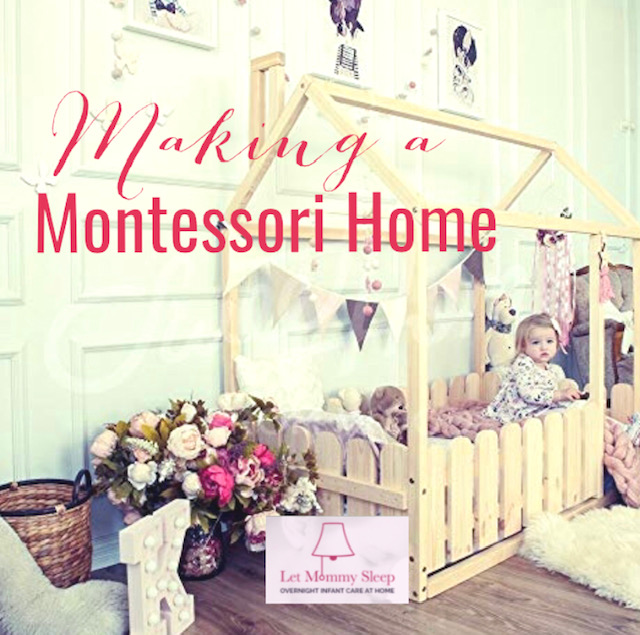 Many parents practice Montessori philosophies naturally, but want to implement the full program at home. For infants and toddlers, here's what that means (from the American Montessori Society):
"Self-care: washing, dressing, toileting, and eating, according to each child's individual capacity
Care of the environment: cleaning, food preparation and food service; plant care and animal care
Large-motor activities (indoors and out): walking, climbing, running, jumping, balancing, climbing steps, and more
Fine-motor skills: reaching, grasping, picking up objects, transferring objects, using tools and utensils, doing art work
Language: naming objects, describing actions and intentions, discussing pictures, conversation, music, and singing
Social skills: developing manners through interactions with peers, teachers, and adult-led small group games"
Here's how can you develop this type of learning environment in your own home:
For toddlers, place developmentally appropriate furniture in their play space and around the house.
Don't overwhelm your child with too many toys. Avoid toys that have batteries, flashing lights or that play loud music. Instead, have an open play space with a few toys out on a shelf that a child can choose to play with. Examples of Montessori-style toys are: puzzles, blocks, cardboard boxes, musical instrumentals and art supplies. When your child is finished, help with clean up until they are able to do so independently.
Have soft, physical playsets available so baby can explore safely with minimal parent intervention. A playroom for an infant could also include a mirror so s/he can observe body movements.
Make helping with meals and household tasks a routine part of your child's day. A learning tower in the kitchen allows little ones to safely and independently help with things like putting vegetables in a salad, rinsing plates or wiping down the counters.
Sleeping -here's where Montessori looks a LOT different for toddlers- When little ones, age 13 months and up, are ready to sleep alone in their own room, a Montessori nursery means not using a crib, and simply using a mat for sleep. This is part of creating an environment where baby can safely explore if they wish. To many parents in the US this sounds unsafe and a little strange, but it's vital to understand that this sleeping arrangement would only occur in a securely and fully childproofed room after 1 year, when a baby is ready to be on their own at night. Since the AAP recommends newborns and babies stay in the same room (but not the same bed) as their parents for 1 year after being born, baby would sleep in a bassinet or Moses basket next to parents' bed for that first year. While a mat can certainly be used, a safe-sleep set up using basinette or Moses basket can also be used for naps.
For more ideas on how to implement Montessori into your home, and why certain products are considered "Montessori," please visit our Amazon shop. And let us know what works for you on Facebook!
2021
(5)
2020
(37)
2019
(30)
2018
(9)
2017
(17)
2016
(12)
2015
(15)
2014
(16)
2013
(18)
2012
(4)