Our guide to hiring the perfect babysitter is updated for 2021!

Updated July 26, 2021
If you've never hired a babysitter or nanny, it can be hard to know what makes a great candidate, especially if you have a newborn or infant. Here's our guide to finding your perfect helper:
Basic Questions to Ask Potential Sitters:
Have you had experience babysitting an infant before?
How old are the children you have worked with before?
If you're breastfeeding, ask your sitter if they have experience in preparing breastmilk. If you feed by formula, make sure they know how to prepare/heat the formula.
Are you familiar with how to put an infant to bed?
Do you know First Aid? Are you CPR certified?
What types of activities do you do with children?
How do you help a fussy baby?
Do you have your COVID vaccine?
Trust Your Gut
When you meet someone for the first time, get a read on them. Do they seem interested in your child? Do they answer your questions with enthusiasm and confidence? Parental instinct is very strong and your own instincts are almost always correct.
Check References
We are SHOCKED at the number of times people don't check references. Ask for at least two references of non-family members that you can contact by phone; a references' tone of voice can be as telling as the actual answers. Don't feel uncomfortable asking questions; you are your child's advocate and protector.
You've Hired the Sitter- Now What?
Once you hire the sitter, make sure that you have all of your emergency info in an easily accessible place. Print out our Emergency Info Sheet here if you need one!
If you have a landline, show the sitter where it is.
If you don't use a landline, make sure you have a both iPhone and Android chargers in the house. The babysitter's phone should be charged at all times.
It's perfectly fine to use a nanny cam while you're out and it's your legal right to have a camera anywhere except the bathroom or other places where there is an expectation of privacy (a large closet is a good example). Please be considerate to your babysitter and let her know if she's being recorded— she may need to quickly change her clothes if baby has an accident or spits up!
Don't forget to prepare your home and kids for the new babysitter or nanny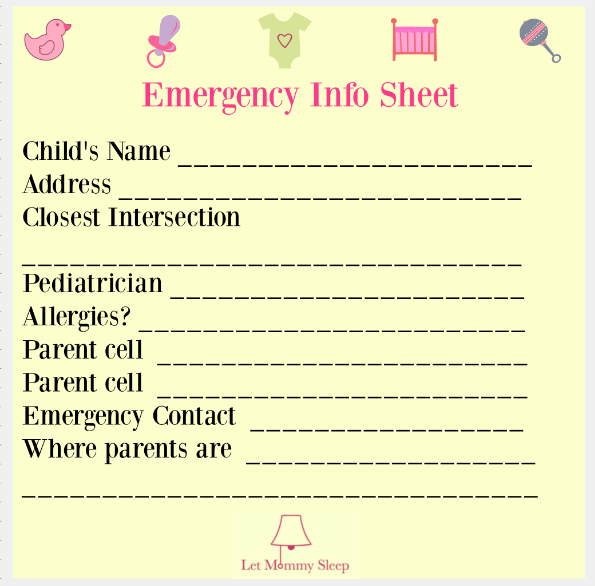 What are your go-to tips for hiring help with your little ones? Let us know on Twitter or Facebook!
2021
(5)
2020
(37)
2019
(30)
2018
(9)
2017
(17)
2016
(12)
2015
(15)
2014
(16)
2013
(18)
2012
(4)