Let Mommy Sleep named one of Forbes Best Shark Tank Rejects!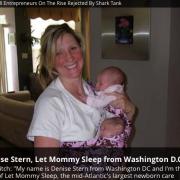 This weekend Forbes featured "18 Entrepreneurs on the Rise Rejected by Shark Tank." As a small business you just have to apply to be on this powerhouse of a show. The chances of actually getting on though are less than getting accepted into Harvard -roughly 1 in 4,000! For small business owners, the challenges are also more than just the awful waiting game; the time it takes to audition is time away from running the business and sharing your financial information isn't exactly comfortable. All this aside, applying to be in the Tank is fun and a unqiuely American opportunity. For these reasons, we'll take the next best thing…being a Shark Tank Reject!
If you'd like to see our pitch about taking our overnight baby nurse service nationwide, visit our slide here and join the conversation on Forbes! And if you're Marc, Kevin, Lori, Daymond, Barbara or Robert, we forgive you.

2021
(5)
2020
(37)
2019
(30)
2018
(9)
2017
(17)
2016
(12)
2015
(15)
2014
(16)
2013
(18)
2012
(4)