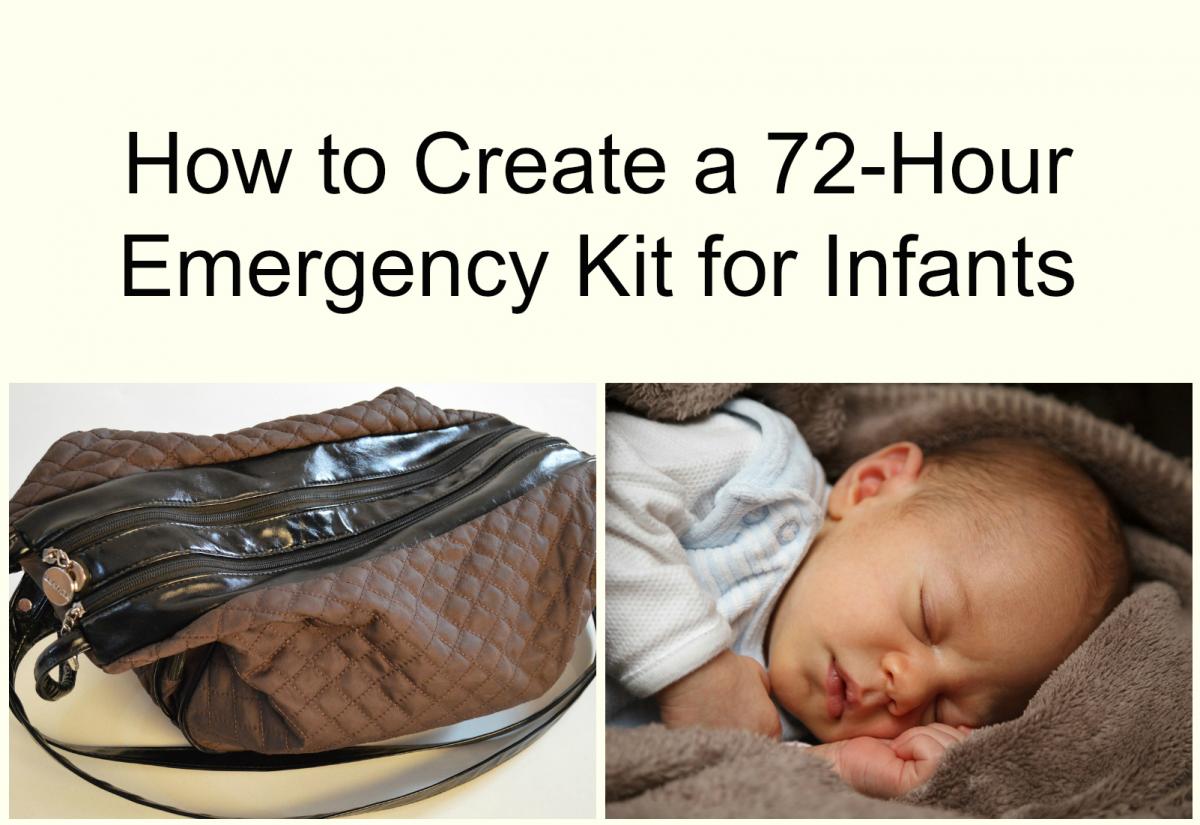 When an emergency strikes, the Department of Homeland Security and FEMA suggest having food, water and other supplies to last your family for at least 72 hours (http://www.dhs.gov/how-do-i/prepare-my-family-disaster.) Families with babies should take special note and also have an additional kit ready for baby. We suggest storing these items in a large diaper or duffle bag and keeping the bag in an easily accessible place, such as a front hall closet.
A 72 Hour Emergency Kit for Babies should contain the following:
2 gallons of nursery or purified water
At least 1 gallon of water per day for nursing moms
1 large, sealed can of powdered formula (more than enough for 3 days) or consider powdered formula packets to save space
Formula scoop (often included with the can.)
3-5 bottles with nipples
Baby food pouches (for babies that eat solids)
Finger food such as Cheerios or "puffs" (for babies that eat solids)
Camping stove (may be necessary to sterilize and clean bottles.)
30-35 diapers
2 large containers of disposable baby wipes (for diapering needs and also for cleaning spills, hands, and bodies.)
Diaper rash cream
Diaper changing pad
2 boxes of sealable plastic bags (like Ziploc) for storing dirty diapers and laundry
Pacifiers (if your baby uses them)
Clothing:

5 seasonal changes of clothes (combination of onesies, pants, footed one-piece outfits)
3 footed pajamas
Sleep sack or swaddle
Seasonal items such as hats, socks and mittens.

Baby blanket
5-6 burp clothes or washcloths
Travel baby kit with baby soap, lotion, shampoo
Hand sanitizer
Baby Tylenol or Motrin
Warm emergency blanket
Hand warmers
2-3 small toys
If you need to leave your home, we also suggest quickly taking:
Baby carrier (wearing a baby can be invaluable)
Additional toys
Stroller
Jacket, coat or bunting depending on the weather
As baby grows and changes, the kit will need to be updated. For example, a newborn would require a different diaper size, nipple, and clothing than a 10-month old baby. We suggest revising your baby's 72-hour kit every 4-6 weeks.
For more information about packing 72 Hour Emergency Kit for your whole family, visit these resources:
2021
(5)
2020
(37)
2019
(30)
2018
(9)
2017
(17)
2016
(12)
2015
(15)
2014
(16)
2013
(18)
2012
(4)