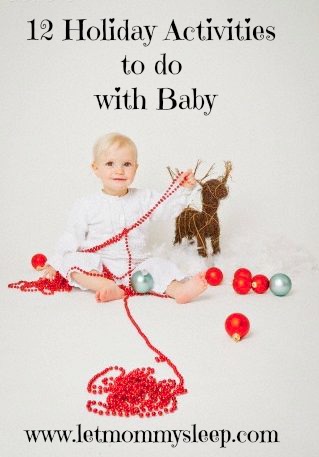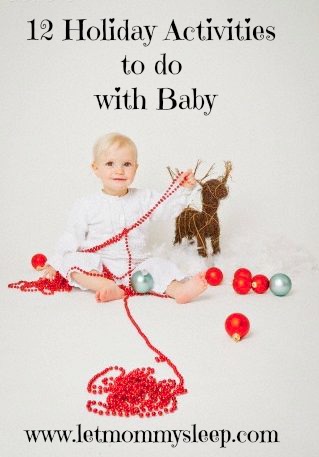 1) Have a family holiday photo op: Has baby been the subject of all the photos lately? Don't forget to capture baby's first holiday by taking a picture of the whole family! Many professional photographers offer "mini-sessions" to work around baby's schedule, but don't feel pressured to parent for the Gram…photos that friends and family take can be perfect too!
2) Read holiday themed board books: Whatever holiday you celebrate, chances are, there is a board book about it. Babies are never too young to be read to, and the holidays are the perfect time to start building up a child's home library. In addiiton to the special stories of the holidays, choose board books that have holiday specific colors, sounds, textures and even scents to make this a sensory activity.
3) Drive or stroll around to view decorations and lights: Babies love to look at lights! Find a local, spectacular display and go on an outing, or just drive around your local neighborhoods. Help build vocabulary by talking about the colors, shapes, and objects you see together.
4) Sing holiday songs to your baby: The fantastic thing about Christmas music and holiday tunes in general are that almost all the same songs that were popular when we were kids are still popular and will continue to be for generations. Parents, kids and grandparents all know these these songs, so belt out some traditional tunes for fun and to keep this tradition alive! If baby is old enough, add some jingle bells and shakers and have baby play along.
5) Buy special holiday or winter themed pajamas: Get cute and cozy with seasonal pj's for your little one. And if you're going to do family jammies, go all the way and do not forget your pets.
6) Create a keepsake such as a plate or ornament: Commemorate this special milestone by capture his/her little handprint or footprint on a plate or ornament. You can make this an activity at a paint-your-own pottery studio, or buy a take-home kit at a craft store or online for a low-key approach.
7) Use edible finger-paints to make a holiday craft: Crafts and holidays go hand in hand, but many of the materials on the market are not safe when digested. We are huge fans of these naturally safe finger-paints which contain ingredients that are baby-safe, organic, vegan and have no wheat, sugar, or preservatives. Plus, they are made with real fruits and vegetables.
8) Create a holiday themed sensory table/tub: Place wrapping paper, tissue paper, bows, tinsel, etc. in a big tub, and let baby touch, rub, shake, and play with the items to build tactile development and fine motor skills.
9) Make a holiday felt board: Make or buy a felt Christmas Tree, Snowman, Menorah, or other holiday themed feltboard, and baby can safely "decorate the tree" or "light" some candles. They are less than $10 of Amazon and just the right size for little ones. If baby is in a playpen, bring the playpen over to the decoration station with a few safe ornaments and let baby see the cause and effect of placing ornaments and pieces on the feltboard.
10) Play with some puppets: Play, sing, and talk to baby using a holiday-themed puppet and put a smile on his/her little face. This is an especially relaxed activity for newborns who are not mobile yet.
11) Start the tradition of giving: Even though baby is too young for his/her own American Express card, give special gifts in baby's honor to friends and family members. Teach baby that it is better to give than to receive!
12) Facetime/ Skype relatives and friends that are far away. Looking at pictures on Facebook is nice, but those who are far away really want to see baby in action. Set up a computer date and share some special conversation. And don't worry- communicating with loved ones and family members is the one exception to the AAP's "no screentime before 2" rule.
The most important thing about the holidays is family and celebrating in a way that honors your religion, traditions and/or values. If reading this blog post creates ANY stress at all, please know that it is perfectly fine to do the activity of 13) sitting on the couch and 14) laying in bed. 🙂
2021
(5)
2020
(37)
2019
(30)
2018
(9)
2017
(17)
2016
(12)
2015
(15)
2014
(16)
2013
(18)
2012
(4)