Car seat recommendations have been updated as of August 30, 2018 and new laws were adopted on July 1, 2019. Here's a state by state breakdown:
After analyzing over 10 years of vehicle crash data, the AAP has concluded, "The most dangerous thing that U.S. children do as part of daily life is ride in a car. Motor vehicle crashes remain the leading cause of death for children 4 years and older." Additionally, while the car seats themselves are safe, it has been reported in many accidents that seats have been installed too loosely or at an incorrect angle. To be sure your seat is installed correctly, visit SafeKids Worldwide to find a Certified Child Passenger Safety Technician or inspection station in your area.
Here's what's new in car seat recommendations:
What are the new CDC car seat recommendations? As of August 2018, the CDC now recommends that rear-facing child safety seats be used for infants and toddlers from ages 2 -4 years old. As the website says, "For the best possible protection, infants and toddlers should be buckled in a rear-facing car seat, in the back seat, until they reach the maximum weight and/or height limits of their car seat."
What are the new laws? As of July 2019, 10 states have adopted this law: "Children are to ride in a rear-facing safety seat until the age of two or the child reaches the minimum weight limit for a forward-facing safety seat as prescribed by the manufacturer of the safety seat." The states are: Virginia, California, Connecticut, Nebraska, New Jersey, Oklahoma, Oregon, Pennsylvania, Rhode Island and South Carolina. New York will adopt this into law on November 1, 2019.
So which are the highest rated carseats for safety? According to Consumer Reports, the-following carseats scored the highest safety ratings as of January 2019:
Highest Rated Infant Car Seats, for babies weighing 4- 40 pounds
Highest Rated Convertible Car Seats, for babies weighing weighing 5 to 45 pounds and can then be turned forward-facing from the age of 2 through toddler years and beyond (20 to 70 pounds):
What about Uber or Lyft…can my baby ride? According the Uber's website, carseats can be requested when using an UberX vehicle by choosing the "car seat" option after selecting a vehicle and Lyft allows riders to bring baby in a carseat anytime.
What if I'm traveling between states with my baby? Each state/jurisdiction has it's own laws. Check yours below:
And here are the CDC national reccomendations for car seats, booster seats and child restraint: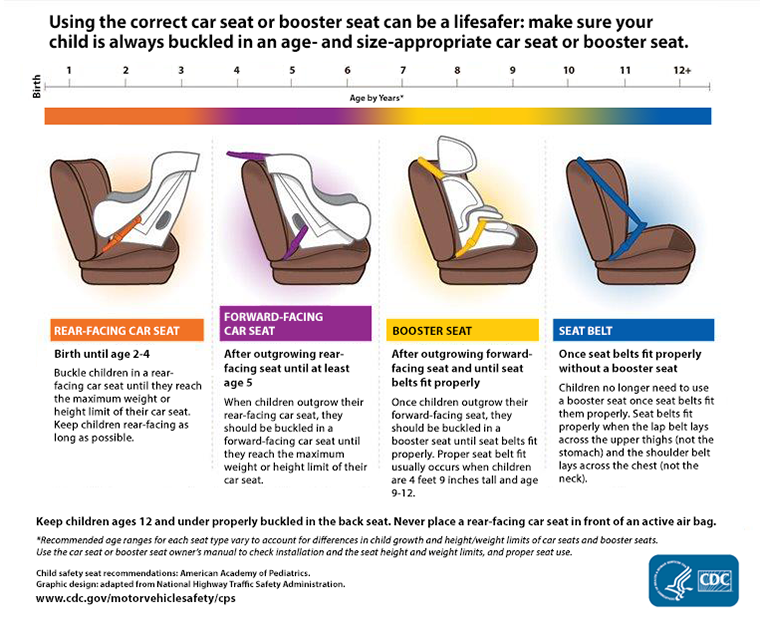 2021
(5)
2020
(37)
2019
(30)
2018
(9)
2017
(17)
2016
(12)
2015
(15)
2014
(16)
2013
(18)
2012
(4)